Chana Bloch
Biography of Chana Bloch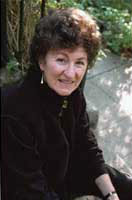 Chana Bloch (born March 15, 1940, Bronx, NY) is an American poet, translator, and scholar. She is a professor emerita of English at Mills College in Oakland, California.
Bloch earned her B.A. from Cornell University, her M.A. degrees in Judaic Studies and English literature from Brandeis University, and a Ph.D. in English from the University of California at Berkeley. She taught at Mills College for over thirty years and directed their Creative Writing Program. Bloch has held residencies at the Bellagio Center for Scholars and Artists, the MacDowell Colony, Yaddo and the Djerassi Resident Artists Program. She has given lectures and poetry readings at numerous U.S. colleges and universities.
Bloch has published four collections of her poetry: The Secrets of the Tribe, The Past Keeps Changing, Mrs. Dumpty and Blood Honey. Her work has been published in The New Yorker, Atlantic Monthly, The Nation and included in Best American Poetry, The Pushcart Prize and other anthologies. She is the poetry editor of Persimmon Tree, an online journal of the arts by women over sixty.
Duck/Rabbit
We remember the rabbit when we see
the duck, but we cannot experience
both at the same time
—E.H. Gombrich, Art and Illusion
WHAT do you remember? When I looked at
his streaky glasses, I wanted
to leave him. And before that? He stole those
cherries for me at midnight. We were walking
in the rain and I loved him.