Chana Bloch
Biography of Chana Bloch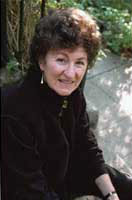 Chana Bloch (born March 15, 1940, Bronx, NY) is an American poet, translator, and scholar. She is a professor emerita of English at Mills College in Oakland, California.
Bloch earned her B.A. from Cornell University, her M.A. degrees in Judaic Studies and English literature from Brandeis University, and a Ph.D. in English from the University of California at Berkeley. She taught at Mills College for over thirty years and directed their Creative Writing Program. Bloch has held residencies at the Bellagio Center for Scholars and Artists, the MacDowell Colony, Yaddo and the Djerassi Resident Artists Program. She has given lectures and poetry readings at numerous U.S. colleges and universities.
Bloch has published four collections of her poetry: The Secrets of the Tribe, The Past Keeps Changing, Mrs. Dumpty and Blood Honey. Her work has been published in The New Yorker, Atlantic Monthly, The Nation and included in Best American Poetry, The Pushcart Prize and other anthologies. She is the poetry editor of Persimmon Tree, an online journal of the arts by women over sixty.
Blood Honey
Apprehended and held without trial,
our friend was sentenced:
brain tumor, malignant.
Condemned each day to wake
and remember.

Overnight, a wall sprang up around him,
leaving the rest of us
outside.