Charles Hamilton Sorley
Biography of Charles Hamilton Sorley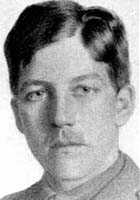 Charles Hamilton Sorley was a British poet of World War I.

Life

Born in Aberdeen, Scotland, he was the son of William Ritchie Sorley. He was educated, like Siegfried Sassoon, at Marlborough College (1908–13). At Marlborough College Sorley's favourite pursuit was cross-country running in the rain, a theme evident in many of his pre-war poems, including "Rain" and "The Song of the Ungirt Runners". Before taking up a scholarship to study at University College, Oxford, Sorley spent a little more than six months in Germany, three months of which were at Schwerin studying the language and local culture. Then he enrolled at the University of Jena, and studied there up to the outbreak of World War I.

After Britain declared war on Germany, Sorley was detained for an afternoon in Trier, but released on the same day and told to leave the country. He returned to England and volunteered for military service, joining the Suffolk Regiment. He arrived at the Western Front in France as a lieutenant in May 1915, and quickly rose to the rank of captain at the age of twenty. Sorley was killed in action near Hulluch, where he was shot in the head by a sniper at the Battle of Loos on 13 October 1915.

Robert Graves, a contemporary of Sorley's, described him in his book Goodbye to All That as "one of the three poets of importance killed during the war". (The other two were Isaac Rosenberg and Wilfred Owen.) Sorley may be seen as a forerunner of Sassoon and Owen, and his unsentimental style stands in direct contrast to that of Brooke. Sorley's last poem was recovered from his kit after his death, and includes some of his most famous lines:

When you see millions of the mouthless dead
Across your dreams in pale battalions go

Sorley's sole work was published posthumously in January 1916 and immediately became a critical success, with six editions printed that year. Sorley is regarded by some, including the Poet Laureate John Masefield, as the greatest loss of all the poets killed during the war. On November 11, 1985, Sorley was among 16 Great War poets commemorated on a slate stone unveiled in Westminster Abbey's Poet's Corner. The inscription on the stone was written by Wilfred Owen. It reads: "My subject is War, and the pity of War. The Poetry is in the pity."

Charles Hamilton Sorley's Works:

Marlborough and Other Poems (1916)
The Collected Poems of Charles Hamilton Sorley (1985)
This page is based on the copyrighted Wikipedia Charles Hamilton Sorley; it is used under the Creative Commons Attribution-ShareAlike 3.0 Unported License. You may redistribute it, verbatim or modified, providing that you comply with the terms of the CC-BY-SA.
To Germany
You are blind like us. Your hurt no man designed,
And no man claimed the conquest of your land.
But gropers both through fields of thought confined
We stumble and we do not understand.
You only saw your future bigly planned,
And we, the tapering paths of our own mind,
And in each other's dearest ways we stand,
And hiss and hate. And the blind fight the blind.