Charles Harper Webb
Biography of Charles Harper Webb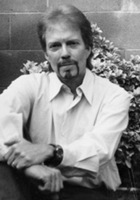 Charles Harper Webb is an American poet, professor, psychotherapist and former singer and guitarist. His most recent poetry collection is Shadow Ball (University of Pittsburgh Press, 2009). His honors include a Whiting Award, a Guggenheim Fellowship, The Kate Tufts Discovery Award, a Pushcart Prize and inclusion in The Best American Poetry 2006. His poems have appeared in literary journals and magazines including American Poetry Review, Paris Review, and Ploughshares. Webb was born in Philadelphia, and grew up in Houston. He earned his B.A. in English from Rice University, and an M.A. in English from the University of Washington, and an M.F.A. in Professional Writing and his PhD in Counseling Psychology from the University of Southern California. He teaches at California State University, Long Beach, where he received a Distinguished Faculty Scholarly and Creative Achievement Award and the Distinguished Faculty Teaching Award, and he lives in Long Beach, California.

Honors and awards

2001 Guggenheim Fellowship
1999 Felix Pollack Prize, for Liver
1998 Whiting Writer's Award
1998 Kate Tufts Discovery Award, for Reading the Water
1997 Morse Poetry Prize, for Reading the Water
Academy of American Poets Prize

Charles Harper Webb's Works:

Shadow Ball (2009)
Amplified Dog (2006)
Hot Popsicles (2005)
Tulip farms and leper colonies: poems (2001)
Liver (1999)
Reading the Water (1997)
A Weeb for All Seasons (1992)
Poetry That Heals (1991)
Everyday Outrages (1989)
Zinjanthropus Disease (1978)
This page is based on the copyrighted Wikipedia Charles Harper Webb; it is used under the Creative Commons Attribution-ShareAlike 3.0 Unported License. You may redistribute it, verbatim or modified, providing that you comply with the terms of the CC-BY-SA.
Enthusiasm
"Don't overdo it," Dad yelled, watching me
Play shortstop, collect stamps and shells,
Roll on the grass laughing until I peed my pants.
"Screw him," I said, and grabbed every cowry

I could find, hogged all the books I could
From Heights Library, wore out the baseball
Diamond dawn to dusk, and—parents in Duluth—
Gorged on bountiful Candy dusk to dawn.