Charles Henry Soutar
Biography of Charles Henry Soutar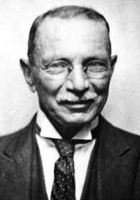 Charles Henry Souter , medical practitioner and writer, was born on 11 October 1864 at Aberdeen, Scotland, eldest son of John Clement Souter, general practitioner, and his wife Helen, née Coutts. John, an accomplished pencil and water-colour artist, collected 'rare classical books and old English china and coins'. The family shifted to Nottingham, England, and in 1872 to Upper Holloway, London. Charles went to Highgate and University College schools, and at 14 was registered as a medical student under his father's tuition at the Royal College of Surgeons.

Sailing in the clipper City of Corinth as ship's surgeon, John brought his family to Sydney in March 1879; on the advice of Archbishop Vaughan, they settled inland at Coonabarabran. Charles had enjoyed the sea voyage and gained a lifelong interest in ships and sailors' songs. He worked on the family selection and became an expert horseman.

In August 1882 Souter went to Scotland to study medicine at the University of Aberdeen (M.B., C.M., 1887). He married with Catholic rites Jane Ann Raeburn, daughter of a master baker, on 11 May 1887. Back in New South Wales they moved to Hillston, but, after the birth of a daughter, Jane died in 1889. Souter sailed to Hong Kong as ship's surgeon and then made a number of coastal voyages. In 1891 he went to Balaklava, South Australia, where he practised until 1905. He married Lucy de Neufoille Lucas on 28 April 1896 in Adelaide; she bore him a son. After a year in the city he was at Clarendon (1907-09), Prospect (1910-23), Whyalla (1923-24) and North Adelaide (1925-44). His father and brother also practised medicine in South Australia.

With a wide brow, high cheekbones and a moustache, Charles had a warm smile and dapper appearance. From 1896 he contributed to the Bulletin, sometimes using the pseudonyms 'Nil' and 'Dr Nil'. Admired and supported by editors and critics as varied as J. F. Archibald, S. H. Prior, Vance and Nettie Palmer, A. G. Stephens and H. M. Green, he published four collections of verse: Irish Lords (Sydney, 1912), To Many Ladies (Adelaide, 1917), The Mallee Fire (Sydney, 1923) and The Lonely Rose (Adelaide, 1935). His work is characterized by 'a gentle humanity' and belongs with that of other popular balladists such as E.J. Brady, Will Ogilvie and 'John O'Brien'. Most of Souter's best verse depicts the daily life of small farmers in the Mallee district of South Australia and is sensitive to the experiences of both men and women. Yet he was influenced by Kipling, Newbolt and Noyes, and his poems of World War I are notable contributions to writing in this field. In 'The dialects of England' and 'The play' he commented on contemporary English and the vernacular. Much of his work reveals the difficulties he encountered in reflecting an authentic Australian diction. His ballads, shanties and poems like 'The Mallee Root', 'Old John Bax', 'Irish Lords' and 'O'Halloran' made a significant contribution to Australian writing.

While serving much of his time as a locum tenens, Souter found the leisure to write and sketch; he also composed and played bush songs, bird calls and shanties on his harmonica and flute. Another of his pastimes was 'manufacturing ornaments, clock stands and jewel boxes from mallee roots'. He belonged to the Adelaide Dual Club and was an expert on 5AD's radio session, 'Information Please'. Survived by his wife, daughter and son, he died at North Adelaide on 20 August 1944 and was buried with Catholic rites in West Terrace cemetery. He was not related to D. H. Souter.

Charles Henry Soutar's Works:

Irish Lords (1912)
To Many Ladies (1917)
The Mallee Fire (1923)
The Lonely Rose (1935)
This page is based on the copyrighted Wikipedia Charles Henry Soutar; it is used under the Creative Commons Attribution-ShareAlike 3.0 Unported License. You may redistribute it, verbatim or modified, providing that you comply with the terms of the CC-BY-SA.
The Mallee Fire
I SUPPOSE it just depends on where you're raised,
Once I met a cove as swore by green belar!
Couldn't sight the good old mallee-stump I praised;
Well!—I couldn't sight belar, and there you are!
But the faces in the fire where the mallee stump's a-blinking
Are the friendliest I ever seen, to my way o' thinking!

In the city where the fires is mostly coal—
There! I can't a-bear to go and warm my feet!