Charles Schulz
Biography of Charles Schulz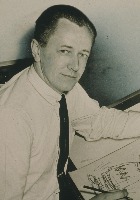 Charles Monroe Schulz (November 26, 1922 – February 12, 2000), nicknamed Sparky, was an American cartoonist, whose comic strip Peanuts proved one of the most popular and influential in the history of the medium and is still widely reprinted on a daily basis.

Born in Minneapolis, Minnesota, Schulz grew up in Saint Paul. He was the only child of Carl Schulz, who was born in Germany, and Dena Halverson, who was Norwegian. His uncle called him "Sparky" after the horse Spark Plug in Billy DeBeck's comic strip, Barney Google.

Schulz loved drawing and sometimes drew his family dog, Spike, who ate unusual things, such as pins and tacks. Schulz drew a picture of Spike and sent it to Ripley's Believe It or Not!; his drawing appeared in Robert Ripley's syndicated panel, captioned, "A hunting dog that eats pins, tacks and razor blades is owned by C. F. Schulz, St. Paul, Minn." and "Drawn by 'Sparky'" (C.F. was his father, Carl Fred Schulz.)

Schulz attended St. Paul's Richard Gordon Elementary School, where he skipped two half-grades.

He became a shy, timid teenager, perhaps as a result of being the youngest in his class at Central High School. One episode in his high school life was the rejection of his drawings by his high school yearbook. A five-foot-tall statue of Snoopy was placed in the school's main office 60 years later.