Charles Simic
Biography of Charles Simic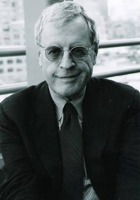 a Serbian-American poet, and was co-Poetry Editor of the Paris Review. He was appointed the fifteenth Poet Laureate Consultant in Poetry to the Library of Congress in 2007.
The Something
Here come my night thoughts
On crutches,
Returning from studying the heavens.
What they thought about
Stayed the same,
Stayed immense and incomprehensible.

My mother and father smile at each other
Knowingly above the mantel.