Charlotte Peters Rock
Charlotte Peters Rock
(20th century / England)
Biography of Charlotte Peters Rock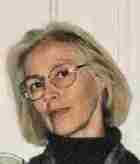 Poet who writes both poetry and songs about world history and what happened today. She has travelled extensively and was twice invited to Saratov University on the Volga in Russian Federation. The second time, to the Saratov University Conference of the National Association of teachers of English from across the Russian Federation

Charlotte Peters Rock's Works:

Time Travel - Along The Silk Route
Time Travel - Celts Romans & Vikings
Time Travel - America
Child Poems
Living in the World
etc
Exchange And Mart
His high profile made The Qualities.
On one arm a graceful woman
Tucked in close another photograph
woman doppleganger - and his first

If he admired the looks so much why
trade the one in for the other?
Was it ageing lines which caused the change
-boredom with her awkward company?