Christopher Logue
Biography of Christopher Logue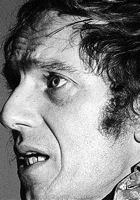 Christopher Logue, CBE, an English poet associated with the British Poetry Revival.

Life

Born in Portsmouth, Hampshire, and brought up in the Portsmouth area, he was the only child of middle-aged parents, John and Molly Logue, who married late. He attended Roman Catholic schools, including Prior Park College, before going to Portsmouth Grammar School. On call-up, he enlisted in the Black Watch, and was posted to Palestine. He was court-martialled in 1945 over a scheme to sell stolen pay books, and sentenced to 16 months imprisonment, served partly in Acre Prison. He lived in Paris from 1951 to 1956, and was a friend of Alexander Trocchi.

In 1958 he joined the first Aldermaston march, organised by the Direct Action Committee Against Nuclear War. He was on the Committee of 100. He served a month in jail for refusing to be bound over not to continue with the celebrated 17 September 1961 Parliament Square sit-down. He told the Bow Street magistrate, "I came here to save your life. But, having heard what you have to say, I don't think the end justifies the means." In Drake Hall open prison he and fellow protesters were set to work - "Some wit allocated it" - demolishing a munitions factory.

Career

He was a playwright and screenwriter as well as a film actor. His screenplays were Savage Messiah and The End of Arthur's Marriage. He was a long-term contributor to Private Eye magazine, as well as writing for Alexander Trocchi's literary journal, the Merlin. Logue won the 2005 Whitbread Poetry Award for Cold Calls. His early popularity was marked by the release of a loose adaptation of Pablo Neruda's Twenty Love Poems, later released as an extended play recording, Red Bird: Jazz and Poetry, backed by a jazz group led by the drummer Tony Kinsey.

One of his poems, Be Not Too Hard, was set to music by Donovan and heard in the film Poor Cow (1967), and was made popular by Joan Baez on her eponymous 1967 album, Joan. Another well-known and well-quoted poem by Logue was Come to the Edge, which is often attributed to Guillaume Apollinaire, but is in fact only dedicated to him. It was originally written for a poster advertising an Apollinaire exhibition at the ICA in 1961 or 1962, and was titled "Apollinaire Said", hence the misattribution. His last major work was an ongoing project to render Homer's Iliad into a modernist idiom. This work is published in a number of small books, usually equating to two or three books of the original text. (The volume, Homer: War Music, was shortlisted for the 2002 International Griffin Poetry Prize.) He published an autobiography, Prince Charming (1999).

His lines tended to be short, pithy and frequently political, as in Song of Autobiography:

I, Christopher Logue, was baptized the year
Many thousands of Englishmen,
Fists clenched, their bellies empty,
Walked day and night on the capital city.

He wrote the couplet that is sung at the beginning and end of the film A High Wind in Jamaica (1965), the screenplay for Savage Messiah (1972), a television version of Antigone (1962), and a short play for the TV series The Wednesday Play titled The End of Arthur's Marriage (1965).

He appeared in a number of films as an actor, most notably as Cardinal Richelieu in Ken Russell's film The Devils (1971) and as the spaghetti-eating fanatic in Terry Gilliam's Jabberwocky (1977). Logue wrote for the Olympia Press under the pseudonym Count Palmiro Vicarion, including a pornographic novel, Lust.

Family

He married biographer Rosemary Hill in 1985. Logue died on 2nd December 2011, aged 85.

Christopher Logue's Works:

Poetry

Patrocleia, University of Michigan Press, 1963
Ode to the dodo: poems from 1953 to 1978, Cape, 1981
War Music. J. Cape. 1981. ISBN 9780224015349.; University of Chicago Press, 2003
Kings: An Account of Books 1 and 2 of Homer's Iliad Farrar, Straus, Giroux, 1991
The Husbands: An Account of Books 3 and 4 of Homer's Iliad Farrar, Straus, and Giroux, 1995
Selected poems, Faber and Faber, 1996
All Day Permanent Red. Macmillan. 2004
Cold calls: war music continued, Volume 1, Faber and Faber, 2005

Prose

Prince Charming: a memoir, Faber and Faber, 1999; Faber, 2001
Lust. Paris: Ophelia Press. 1959. OCLC 38894237.; Olympia Press, 2005
This page is based on the copyrighted Wikipedia Christopher Logue; it is used under the Creative Commons Attribution-ShareAlike 3.0 Unported License. You may redistribute it, verbatim or modified, providing that you comply with the terms of the CC-BY-SA.
Rat, O Rat ...
Never in all my life have I seen
as handsome a rat as you.
Thank you for noticing my potatoes.

O Rat, I am not rich.
I left you a note concerning my potatoes,
but I see that I placed it too high
and you could not read it.