Christopher Pearse Cranch
Biography of Christopher Pearse Cranch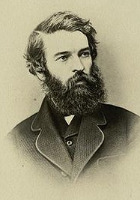 Christopher Pearse Cranch (March 8, 1815 – January 20, 1892) was an American writer and artist.

Cranch was born in the District of Columbia. He attended Columbian College and Harvard Divinity School. He briefly held a position as a Unitarian minister. Later, he pursued various occupations: a magazine editor, caricaturist, children's fantasy writer (the Huggermugger books), poet (The Bird and the Bell with Other Poems in 1875), translator, and landscape painter. He lived most of his life in Cambridge, Massachusetts.

Though not one of its founding members, Cranch became associated with the Transcendental Club; his connection with the Transcendentalists ultimately diminished his demand as a minister. Cranch's caricatures of Ralph Waldo Emerson were later collected as Illustrations of the New Philosophy: Guide. His poetry was published in The Harbinger and The Dial among other publications.

As a painter, Cranch painted landscapes along the lines of Thomas Cole, the Hudson River school, and the Barbizon school in France. In one foray into historical painting, Cranch depicted the burning of P. T. Barnum's American Museum in New York City. Later in life, Cranch painted scenes from Venice and Italy.

Christopher Pearse Cranch's Works:

* Poems (1844)
* The Last of the Huggermuggers, A Giant Story (1855)
* Kobboltozo (1857)
* The Aeneid of Virgil (translation, 1872}
* The Bird and the Bell with Other Poems (1875)
* Ariel and Caliban with Other Poems (1886)
This page is based on the copyrighted Wikipedia Christopher Pearse Cranch; it is used under the Creative Commons Attribution-ShareAlike 3.0 Unported License. You may redistribute it, verbatim or modified, providing that you comply with the terms of the CC-BY-SA.
A Poet's Soliloquy
ON a time — not of old —
When a poet had sent out his soul and no welcome had found
Where the heart of the nation in prose stood fettered and bound
In fold upon fold —
He called back his soul who had pined for an answer afloat;
And thus in the silence of night and the pride of his spirit he wrote.

Come back, poet-thought!
For they honor thee not in thy vesture of verse and of song.