Clarence Michael James Stanislaus Dennis
Biography of Clarence Michael James Stanislaus Dennis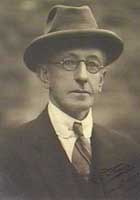 Clarence Michael James Stanislaus Dennis, better known as C. J. Dennis, was an Australian poet known for his humorous poems, especially "The Songs of a Sentimental Bloke", published in the early 20th century. Though Dennis's work is less well known today, his 1916 publication of The Sentimental Bloke sold 65,000 copies in its first year, and by 1917 he was the most prosperous poet in Australian history.

Together with Banjo Paterson and Henry Lawson, both of whom he collaborated with, he is often considered among Australia's three most famous poets.

When he died at the age of 61, the Prime Minister of Australia Joseph Lyons suggested he was destined to be remembered as the "Australian Robert Burns".

Biography

C. J. Dennis was born in Auburn, South Australia. His father owned hotels in Auburn, and then later in Gladstone and Laura. His mother suffered ill health, so Clarrie (as he was known) was raised initially by his great-aunts, then went away to school, Christian Brothers College, Adelaide as a teenager.

At the age of 19 he was employed as a solicitor's clerk. It was while he was working in this job that, like banker's clerk Banjo Paterson before him, his first poem was published. He later went on to publish in The Bulletin.

C. J. Dennis is buried in Box Hill Cemetery, Melbourne. The Box Hill Historical Society have attached a commemorative plaque to the gravestone. Dennis is also commemorated with a plaque on Circular Quay in Sydney which forms part of the NSW Ministry for the Arts - Writers Walk series, and by a bust outside the town hall of the town of Laura.

Clarence Michael James Stanislaus Dennis's Works:

Backblock Ballads and Other Verses (1913)
The Songs of a Sentimental Bloke (1915)
The Moods of Ginger Mick (1916)
The Glugs of Gosh (1917)
Doreen (1917)
Digger Smith (1918)
Backblock Ballads and Later Verses (1918)
Jim of the Hills (1919)
A Book for Kids (1921) (reissued as Roundabout, 1935)
Rose of Spadgers (1924)
The Singing Garden (1935)
This page is based on the copyrighted Wikipedia Clarence Michael James Stanislaus Dennis; it is used under the Creative Commons Attribution-ShareAlike 3.0 Unported License. You may redistribute it, verbatim or modified, providing that you comply with the terms of the CC-BY-SA.
Wooloomooloo (A Riddle)
Here's a ridiculous riddle for you:
How many o's are there in Woolloomooloo?
Two for the W, two for the m,
Four for the l's, and that's plenty for them.