Cody Osterberg
Cody Osterberg
(12/20/88 / Muskegon Michigan)
Biography of Cody Osterberg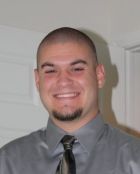 I started writing around my freshman year in high school. Poetry was not my area of focus until late in my sophomore year. Now, at almost twenty years old, I have made poetry a semi-serious hobby. The only reason I haven't taken it beyond semi-serious, is due to the fact that I write best when my emotions are at their worst. I try not to let that happen very often for obvious reasons. If I start a poem and find that I am not satisfied with it, it gets trashed before completion. Because I am so critical of myself, there are quite a few poems that have never made it anywhere but the trash can. the poems you see here, are what I consider my best, my favorites, and my most imaginative. I truly hope any readers would agree.
Intent
So I told you,
The way it will be.
So I told you,
What could happen to me.

So I told you,
I'm running away,
To a new land,
Where I could be lead astray.