Collins Nkemjika Nzomuche
Collins Nkemjika Nzomuche
(Feb 02,1988 / Umuahia, Abia State, Nigeria)
Biography of Collins Nkemjika Nzomuche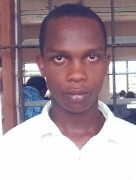 Onyenso popularly known and called by many who admires his gentility and humility, hails from Eziobodo in Owerri West Local Government Area of Imo State in the South-Eastern part of Nigeria in the heart of Africa.
He was born on Tuesday,2nd February,1988.

He had his primary school first in Eziobodo Community Primary School, Eziobodo, Owerri West, Imo State; Ohiya Community Primary School Ohiya, Umuahia North, Abia State; Library Avenue Primary School World Bank Housing Estate, Umuahia North Abia State.

Secondary school life was spent in Ibeku High School, Umuahia, Abia State.

He is currnetly an Accounting student of Federal Polytechnic Nekede, Owerri, Imo State, Nigeria.

A Human Right Activits. The Vice-President, Save The Youth Organization (A non-governmental organization) , Director of Legal Proceedings Equity Chambers Federal Polytechnic Nekede.

He is a man of intellectuality and Godfearing devoted catholic of CKC World Bank Parish, Umuahia, Abia State.

His hobbies are sports (football) , Writting prose and composing of poems. Conducting research work on areas like character observation, computer manipulation, etc.
Precious; So Precious
Oh the light in the dark
You are the belle in mention
So comely and facinating
Formal in nature
Easy to discernment
The key to a way
I pean a song for you
Your life is not tortous
May I ask you