Crimson Love
Crimson Love
(18 / Prince Charming)
Biography of Crimson Love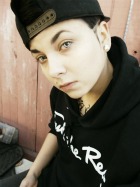 All of the writings previously posted are quite outdated, and were written when I was 16. Please excuse the grammatical, and somewhat adolescent nature of the pieces. Try not to judge me to harshly. I've contemplated their deletion, but I've decided, they're part of the person, I used to be. They're the past, and I've grown from that. I might jot down a few thoughts from time to time, I might even post them. I guess we'll see.

Thank you for stopping by my page. Whoever's reading this, have a wonderful day/night.
Angel Of Death
Angel of death come to me
For this is what I want to be
In your Shadow all the time
Up this ladder I must climb
to be close to you would be ecstasy
For Death like life is meant to be.