Crystal Korzinsky Chambers
Biography of Crystal Korzinsky Chambers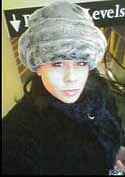 Urged by English and Creative Writing professors and friends to reach beyond the classroom, Crystal began to find the inner voice to put her thoughts to paper for the purpose of expression and fulfillment. Presently residing in Utah, Crystal has recently been published in a scholarship literary anthology and is in the throws of submitting a children's book to various publishers. Crystal's previous publications have been in online Gearhead magazine, and local news letters. blog. Crystal presently resides and studies in Utah. http: //profiles.yahoo.com/ttfiend2003
Writer for www.heralddeparis.com

Crystal Korzinsky Chambers's Works:

Two in the works.
Crystal Korzinsky Chambers Poems
Aloft
My fingers stretch upward
Each a thousand lengths, capable
of holding nest and kite
My skirt tread-bare and brown
speckled by my shedding coife
Brown and golden, a hint of red within
baring my bark, grey and scored
from the adventurers who challenged
my limbs to hold them