Dame Edith Louisa Sitwell
Biography of Dame Edith Louisa Sitwell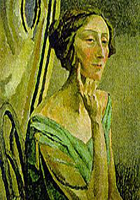 Edith Sitwell was born in Scarborough, Yorkshire, the only daughter of the eccentric Sir George Sitwell, 4th Baronet, of Renishaw Hall; he was an expert on genealogy and landscaping. Her mother was the former Lady Ida Emily Augusta Denison, a daughter of the Earl of Londesborough and a granddaughter of Henry Somerset, 7th Duke of Beaufort. She claimed a descent through female lines from the Plantagenets.

Childhood

Sitwell had two younger brothers, Osbert (1892-1969) and Sacheverell Sitwell (1897-1988) both distinguished authors, well-known literary figures in their own right, and long-term collaborators. Sacheverell married a Canadian woman, Georgia Doble, in 1925 and moved to Weston Hall in Northamptonshire.

Her relationship with her parents was stormy at best, not least because her father made her undertake a "cure" for her supposed spinal deformation--involving locking her into an iron frame. In her later autobiography, she said that her parents had always been strangers to her.

Adulthood

In 1912, 25-year-old Sitwell moved to a small, shabby fourth-floor flat in Pembridge Mansions, Bayswater, which she shared with Helen Rootham (1875-1938), her governess since 1903.

Edith never married. However, it is claimed that in 1927 she fell in love with the homosexual Russian painter Pavel Tchelitchew. The relationship with Tchelitchew lasted until 1928; the same year when Helen Rootham underwent operations for cancer, eventually becoming an invalid. In 1932, Rootham and Sitwell moved to Paris, where they lived with Rootham's younger sister, Evelyn Wiel. Rootham died of spinal cancer in 1938.

Sitwell's mother died in 1937. Sitwell did not attend the funeral because of her displeasure with her parents during her childhood.

During World War II, Sitwell returned from France and retired to Renishaw with her brother Osbert and his lover, David Horner. She wrote under the light of oil lamps when the lights of England were out of service. She knitted clothes for their friends who served in the army. One of the beneficiaries was young Alec Guinness, who received a pair of seaboot stockings.

The poems she wrote during the war brought her back before a public. They include Street Songs (1942), The Song of the Cold (1945) and The Shadow of Cain (1947), all of which were much praised. Still Falls the Rain, about the London blitz, remains perhaps her best-known poem (it was set to music by Benjamin Britten as Canticle III: Still Falls the Rain).

In 1943, her father died in Switzerland, his wealth depleted. In 1948, a reunion with Tchelitchew, whom she had not seen since before the war, went badly.

In 1948 Sitwell toured the United States with her brothers, reciting her poetry and, notoriously, giving a reading of Lady Macbeth's sleepwalking scene. Her poetry recitals were always occasions; she made recordings of her poems, including two recordings of Façade, the first with Constant Lambert as co-narrator, and the second with Peter Pears.

Later Life and Death

Tchelitchew died in April 1957. Her brother Osbert died of Parkinson's disease, diagnosed in 1950. Sitwell became a Dame Commander (DBE) in 1954. In 1955, Sitwell converted to Roman Catholicism.

Sitwell wrote two books about Queen Elizabeth I of England, Fanfare for Elizabeth (1946) and The Queens and the Hive (1962). She always claimed that she wrote prose simply for money and both these books were extremely successful, as were her English Eccentrics (1933) and Victoria of England (1936).

Around 1957 she was confined to a wheelchair. Her last poetry reading was in 1962. She died of cerebral haemorrhage at St. Thomas's Hospital on December 9, 1964 at the age of 77.

Sitwell's papers are held at the Harry Ransom Center at the University of Texas at Austin.

Dame Edith Louisa Sitwell's Works:

Poetry Collections

Clowns' Houses (1918)
Mother and Other Poems (1918)
The Wooden Pegasus (1920)
Façade (1922)
Bucolic Comedies (1923)
The Sleeping Beauty (1924)
Troy Park (1925)
Rustic Elegies (1927)
Gold Coast Customs (1929)
Collected Poems (1930)
Five Variations on a Theme (1933)
Street Songs (1942)
Green Song and Other Poems (1944)
The Song of the Cold (1945)
The Shadow of Cain (1947)
The Canticle of the Rose: Selected Poems 1920-1947 (1949)
Façade, and Other Poems 1920-1935 (1950)
Gardeners and Astronomers: New Poems (1953)
Collected Poems (1954)
The Outcasts (1962)

Other Books

Alexander Pope (1930)
The English Eccentrics (1933)
Aspects of Modern Poetry (1934)
Victoria of England (1936)
I Live under a Black Sun (1937)
A Poet's Notebook (1943)
Fanfare for Elizabeth (1946), a biography of Elizabeth I
The Queens and the Hive (1962), a biography of Elizabeth I
Taken Care Of (1964), autobiography
This page is based on the copyrighted Wikipedia Dame Edith Louisa Sitwell; it is used under the Creative Commons Attribution-ShareAlike 3.0 Unported License. You may redistribute it, verbatim or modified, providing that you comply with the terms of the CC-BY-SA.
Bells Of Gray Crystal
Bells of gray crystal
Break on each bough--
The swans' breath will mist all
The cold airs now.
Like tall pagodas
Two people go,
Trail their long codas
Of talk through the snow.
Lonely are these
And lonely and I ....
The clouds, gray Chinese geese
Sleek through the sky.