Dan Ramirez
Dan Ramirez
(June 16,1941 / Chicago, Illinois)
Biography of Dan Ramirez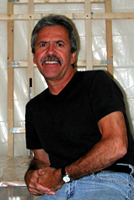 ARTIST (painter) and MUSICIAN (bass) . I am a Prof. Emeritus from the University of Wisconsin-Madison where I taught studio arts and seminars on Contemporary art. I graduated from the University of Chicago where I recieved my MFA in 1977. I have exhibited nationally and internationally for over thirty years. My work has been published in numerous journals and books. I am an avid reader and an amateur poet. I played music professionally for fifteen years; primarily jazz. I am also a former steel hauler of fifteen years. I was born and raised on the southside of Chicago.

Dan Ramirez's Works:

Dennis Adrian: Sight out of mind: Essays and Criticsm on Art; Contemporay American Art Critics, UMI Research Press,1985; Chapter 12, Dan Ramirez: A Critical Survey of Form and Content.

The Painter Speaks: Artists Discuss Their Experiences and Careers, edited by Joan Jeffries, Greenwood Press,1993, Chapter 10.

Art In Chicago: 1945-1995, Museum of Contemporary Art, Thames and Hudson,1995.

Numerous art Journals.
Dance With Me
You approach me
Trading light
For light

Each step
A bargain
With the past.

Space:
Partner in waiting;

Emptiness…

An echo
Of when

Then…