Daniel Cook
Daniel Cook
(9-14-88 / San Diego California)
Biography of Daniel Cook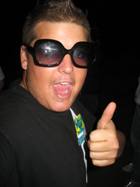 i've graduated high school now and i havent written as much lately. but troubled times have led me to write, much less structured pieces, but heart felt passionate pieces. desire, sin, rebellion, and heart ache are pushing me to write here. read and please please comment, i love feedback, positive, negative anything. please if you want to know more about me, you can look at my myspace.com/danthefrigginman

Daniel Cook's Works:

none yet......
Inspiration
Where do i get my inspiration?
inspiration to write, to read, to live.
Living for God is all I need.
Needs are met with love and conviction.
Conviction's what inspires me.
I write with my whole being.
Being God's child inspires me.
I write what I know.
Knowing God intimately inspires me.