Daniil Ivanovich Kharms
Biography of Daniil Ivanovich Kharms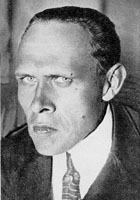 Born Daniil Ivanovich Yuvachov he was the son of a St. Petersburg political, religious and literary figure, Daniil was to achieve limited local reknown as a Leningrad avant-garde eccentric and a writer of children's stories in the 1920s and 30s.

He was married twice (to Esther Rusakova and Marina Malich). His wives sometimes appear in those of his poems that are lyrical or erotic.

In 1931 Kharms was first arrested, then released to a spell of internal exile in Kharkov. This marked him. He lost all but his bravest friends, he could not get a job anywhere, and he was set up for destruction later. Arrested in 1941 he starved to death in a prison hospital in early 1942. He was only 37 at the time of his death.

Works

His short stories while humorous, were considered vulgar, violent and irrational. Shaped with a strong sense of narrative form, his stories moved quickly and effortlessly to their conclusion. Kharm's work has been categorized with popular Russian humor vaudeville, circus clowns, folk drama, and low-class raunchy jokes.

None of Kharms stories were published in his lifetime except a few he was able to disguise as children's literature. Kharms was considered an absurdist writer in that he demonstrated in his stories the meaninglessness of human existence and at the same time the desire of people to have meaning in their lives.

Kharms' stories are typically brief vignettes often only a few paragraphs long, in which scenes of poverty and deprivation alternate with fantastic, dreamlike occurrences and acerbic comedy. Occasionally they incorporate incongruous appearances by famous authors (e.g.: Pushkin and Gogol tripping over each other; Count Leo Tolstoy showing his chamber pot to the world; Pushkin and his sons falling off their chairs; etc.)

The poet often professed his extreme abhorrence of children and pets, as well as old people; his career as a children's writer notwithstanding.

Kharms' world is unpredictable and disordered; characters repeat the same actions many times in succession or otherwise behave irrationally; linear stories start to develop but are interrupted in midstream by inexplicable catastrophes that send them in completely different directions.

His manuscripts were preserved by his sister and, most notably, by his friend Yakov Druskin, a notable music theorist and amateur theologist and philosopher, who dragged a suitcase full of Kharms's and Vvedensky's writings out of Kharms's apartment during the blockade of Leningrad and kept it hidden throughout difficult times.

Kharms' adult works were picked up by Russian samizdat starting around the 1960s, and thereby did have an influence on the growing "unofficial" arts scene. (Moscow Conceptualist artists and writers such as Kabakov, Prigov, Rubinstein, were influenced by this newly found avant-garde predecessor).

Influence

Beginning in 1970's many of Kharms' children's texts were set to music, and were often heard on the radio.
The Russian-American jazz pianist Simon Nabatov has released a CD of settings of Kharms' texts, entitled A Few Incidences (with singer Phil Minton).
Ted Milton staged a performance around Kharms' texts, entitled In Kharms Way (with laptop musician Sam Britton).
The band Esthetic Education composed his poem Juravli I Korabli. It appeared on their debut album Face Reading, and on their live album Live at Ring.
Composer Haflidi Hallgrimsson has composed music featuring Daniil Kharms writings translated into English.

Daniil Ivanovich Kharms's Works:

Kharms, Daniil (2009). Today I Wrote Nothing: The Selected Writings of Daniil Kharms. Edited and translated from the Russian by Matvei Yankelevich. New York: Ardis Books
This page is based on the copyrighted Wikipedia Daniil Ivanovich Kharms; it is used under the Creative Commons Attribution-ShareAlike 3.0 Unported License. You may redistribute it, verbatim or modified, providing that you comply with the terms of the CC-BY-SA.
Petrov And Kamarov
Petrov: Hey, Kamarov, old chap!
Let's catch a few of these gnats!
Kamarov: No, I'm not yet up to that;
We'd do better to catch some tom-cats!