Danish Shakeel
Danish Shakeel
[The Apostrophe] (17 May,2001 / Kashmir)
Biography of Danish Shakeel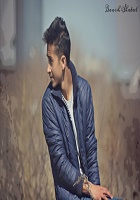 Hailing from a central city of Kashmir-Badgam, Danish Shakeel is one of the youngest technocrats of the valley. With over 10 android apps on Google Play. At the age of 14, he became one of the youngest developers from Kashmir. Danish is 16 years old and he started using computers at a very tender age of 2 years, he said in an interview with DD Kashmir- "I remember that when I was 2 years old, I used to play games on my computer…". Penultimately he was offered scholarship and job by Microsoft India. He is the great grandson of Samad Mir, a renowned Kashmiri Sufi Poet and verily has got attributes. Danish finds writing and art very interesting, he writes poems and articles. He says that Malcolm X has been an inspiration for him, it has pushed him to try to become a good person. He has always been fascinated by the works of William Shakespeare and his great grandfather-Samad Mir.

Danish is fond of sports. He likes to play football, cricket, basketball and other games. He plays soccer at a II-division level for Warsi Football Club and bats for his local junior cricket team. He said- "AB de Villiers is my idol. He boosts me to try different sports rather than sticking to only one sport. He is the sole person that induced my interest for cricket." Danish is an FC Barcelona fan and is a huge fan of Neymar Jr and Messi. In 2013, Danish was awarded the Best Student Award in Adventure (Jawahar Institute of Mountaineering and Winter Sports) by Sham Lal Sharma, former minister of PHE (JK) .

Danish identifies science as ethereal. Despite of his interest in sports and writing, Danish cited that Science motivates him to perfect his skills. He said- "Science is the mother of everything. Science is the fundamental of everything, whether it is writing or sports, science is the spine." In 2015, he bagged the first position in Regional Science Exhibition in his category and was selected for National Level contest. He has also won the 3rd position in International Science Olympiad (State Level) and won the 1st rank in International Cyber Olympiad (State Level) while his International Rank was 47th.

In 2016, Danish Shakeel was awarded the All-India Digital India Award by Ravi Shankar Prasad, Hon'ble Minister of Telecom and IT, India. Danish Shakeel was among the 144 students from India who managed to win the competition. A newspaper quotes- "Nearly 10 lac students appeared in the quiz-out of which only 144 managed to win the competition, including the Kashmiri student." He also acquired 1st position in JK.

danishshakeel54@gmail.com

me@danishshakeel.in

Facebook ID: /danishshakeel17

Facebook Page: /danishshakeelofficial

Instagram: @danishjr17

Hangouts: danishshakeel54@gmail.com
What Is Life To Me
1-Sometimes it's happy, and sometimes sad;
Sometimes it's delighting, and sometimes it's mad.
Sometimes it gives us pleasure and hard times too,
Sometimes such an irony to which we got no clue.

5-We face luxury, we sometimes face wretched fortune,
Meanwhile we face victory, sometimes a vote down too.
Sometimes you feel dejected and hence dismayed,
It's a part of life, like they said.