Darnell Callwood
Darnell Callwood
(02/13/1984 / Brooklyn, NY)
Biography of Darnell Callwood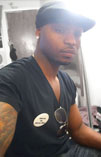 Born and and raised in Brooklyn Ny, currently enrolled in college in pursuit of a degree in Electrical Engineering...Poetry is my new found escape...'Pride is weakness, but humility is strength'.......
Where Is? ? ?
Without love there is no life
Without life there is no living,
We live to find that love,
From the very being,
If love was physical I long to that vision,
A body composition of perfection,
Would have to be its image,
Where do we find love?
Is it here in plain sight?