DARREL KINCAID
DARREL KINCAID
(March 26,1957 to? / San Diego, California)
Biography of DARREL KINCAID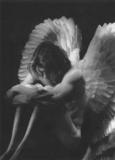 Didn't start writing until this year, age 49, when I decided all those words in my head deserved a better place to be. Still actually don't write poetry, in true form, more like I splash words down in written form and pray the flow of what I say becomes a good imitation of a true poem.

DARREL KINCAID's Works:

After I'm dead? Can only wish, a legacy is a nice thing to leave.
'Weighted Wings'
'Weighted Wings'


Born in venture to soar,

lead in the reality,

to not.