Dave Tanguay
Dave Tanguay
(Nov.8,1948 / Westbrook, Maine)
Biography of Dave Tanguay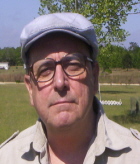 I was born in Westbrook, Maine The 10th. child of a family of 11 children. I served in Vietnam in 1967-69 I became active with the youth movement of the '60s on completion of millitary service. Now retired and living in Florida.(Still believe in the young)
So Far Away (Poem)
Strolling along - the city sidewalk,
I feel at awe, with such a peaceful flow - of travel.
Those I meet, will pause and smile,
Then soothe my soul, with gentle talk.
This fe'lin within, is so hard - to unravel,

Is this the land - where I was raised?
What fills this day, with such enchantment?
I feel as though - I should give praise.