Dave Tanguay
Dave Tanguay
(Nov.8,1948 / Westbrook, Maine)
Biography of Dave Tanguay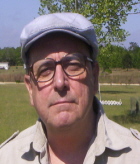 I was born in Westbrook, Maine The 10th. child of a family of 11 children. I served in Vietnam in 1967-69 I became active with the youth movement of the '60s on completion of millitary service. Now retired and living in Florida.(Still believe in the young)
Election 08 (Poem)
The time is drawing nearer - the time to cast our vote.
Those running for office are at each other's throat.
A seat in the oval office is what they seek
For the title of commander in chief - so to speak

Promises, promises, that's what we all hear
However, will they deliver if elected - are they sincere?
Their speeches sound great - only do they speak their own
Words.