David Wolf Budbill
Biography of David Wolf Budbill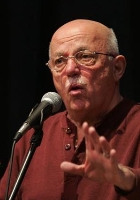 David Wolf Budbill (born 1940, Cleveland, Ohio) is an American poet, and playwright.
He is the author of eight books of poems, eight plays, a novel, a collection of short stories, a picture book for children, and dozens of essays, introductions, speeches, and book reviews.
His three most recent books of poems are Happy Life (Copper Canyon Press, 2011), While We've Still Got Feet (Copper Canyon Press, 2005) and Moment to Moment: Poems of a Mountain Recluse (Copper Canyon Press, 1999).
David Wolf Budbill Poems
Tomorrow
Tomorrow we are bones and ash,
The First Green of Spring
Out walking in the swamp picking cowslip, marsh marigold, this sweet first green of spring. Now sautéed in a pan melting to a deeper green than ever they were alive, this green, this life,
Bugs in a Bowl
Han Shan, that great and crazy, wonder-filled Chinese poet of a thousand years ago, said: We're just like bugs in a bowl. All day going around never leaving their bowl.
All poems of David Wolf Budbill »
Share your comments »
Tomorrow
Tomorrow
we are
bones and ash,
the roots of weeds
poking through
our skulls.

Today,
simple clothes,
empty mind,
full stomach,
alive, aware,
right here,
right now.

Drunk on music,
who needs wine?

Come on,
Sweetheart,
let's go dancing
while we still
have feet.