Debbie Nicholson
Biography of Debbie Nicholson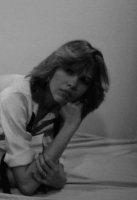 Author Deb Nicholson resides in Michigan. Her first book "Love And Laughter Through The Tears" is available in most bookstores including Amazon Books, Barnes & Nobel and Target.

Look for her new poetry book 'Dancing With The Devil..Until We Make It Right' contains poems from her new book 'Dancing With The Devil' based on cancer fight, survival and loss.

She currently has started a new group on yahoo groups:

Special Circle Of Friends

This group is formed for those who have had cancer or have cancer

Those who have friends/relatives with cancer

Those who have lost someone to cancer

http: //health.groups.yahoo.com/group/specialcircleoffriends/

Her works can be found on many sites throughout the net.

These include:

Associated Content content producer since April 2007

Expert Author on Ezine Articles

Article Dashboard

Except Articles

How Hub

How To Do Things

E-sensuality where she is contributing author, editor, monthly advice column

Squidoo

 

She has been featured in many poetry books such as

Twilight Musings

Labors of Love and more

Future Books For Release:

Love And Laughter After The Tears - Second book in trilogy

Love And Laughter Through It All - third and final book in trilogy

Poems of Love, Laughter And Tears

Erotic Sensuality

Erotic Sensuality 2

Erotic Sensual Role Play

Don't Drink The Water Stupid

The World Through Jade's Eyes

Dancin With The Devil

Debbie Nicholson's Works:

Love And Laughter Through The Tears

Take a spiritual journey of love, laughter and tears. Through tragedy and the paths that lead back to new found enlightenment. On Starting life once more.

Excerpt:

I have cried so many times since he has died. I can not even conceivably count them all. I cried horrifically the day he passed. I cried for how empty my heart felt. As if someone had literally ripped it out. I cried because he no longer was next to me. I yearned so bad to hold him one more time. I cried for the love and special bond we had. I cried for the sake of crying for that was all I had. If crying is good for the soul than mine was 24kt gold that day.

You can purchase Love and Laughter Through The Tears at most brick and mortar stores and online also. Such stores as Barnes & Nobel, Target, Buy.com, Amazon, et..

Coming Soon Love, Laughter, Tears In My Soul
part of the Love and Laughter trilogy announces her new book 'Love, Laughter, Tears In My Soul'. It is a poetry book based upon her love and laughter trilogy.
Debbie Nicholson Poems
Always Walk In The Rain With Me
Always walk in the rain with me, Hold my hand tight so I don't fall, I'm so scared of slipping away,
Music Fills Our Souls
Music fills our souls, so we can keep dancing, out win the devils steps, out dance him once and for all,
Stop Wondering Why
Stop wondering why I love you, the way I do, I love you because you are you,
All poems of Debbie Nicholson »
Share your comments »
Stop Wondering Why
Stop wondering why I love you,
the way I do,

I love you because you are you,
the way you can make me smile on a bad day,
the way you bring laughter to my soul,

Stop wondering why I love you,
it's because the way you make me feel when you hold me,