Debbie Ward Casey
Debbie Ward Casey
(12/16/1966 / Georgia)
Biography of Debbie Ward Casey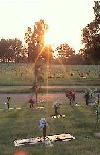 I am a widow with two wonderful boys, Joshua and Jacob. I lost my husband, Mike, the love of my life, on December 13,2002 to suicide. He battled a bipolar disorder most of his life.
In his suicide letter he left me, the one thing that stood out, was that he wrote; 'I am just so tired'.

I had 22 wonderful and troubled years with Mike. He was not only a wonderful husband and father, he was also my best friend.

Life for all of us has been hard, but we are trying to come to terms with our new life and be able to move on.

Writing my thoughts, pain, fears, etc.. down seems to help me deal with issues I am having a hard time overcoming. Educating others about Bipolar disorders and suicide prevention, as well as helping others who are survivors of suicide, also helps to soothe the wounds.
If You Had Known
Can you look into my eyes?
Can you hear my voice?
Can you feel my heart beating?

Do you see my tears of anguish?
Do you hear me crying out in despair?
Do you feel my heart breaking?

I long to see you gently wipe away my tears...