Debi Roy
Debi Roy
[Sunanda Roy] (21 November 1938 - / Hawrah / India)
Biography of Debi Roy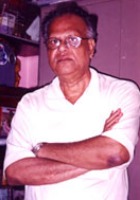 Debi Roy (Bengali: দেবী রায়; family name Haradhan Dhara) is one of the few pioneer poet of Bengali literary world, who have contributed much more. He is also the first modern Dalit poet in Bengali and one of the founding fathers of the Hungry Generation movement in Bengali literature. He has been renowned mostly as poet, and then as translator, writer, essayest critic and editor.

Birth and Education

Debi Roy was born on 21st November, 1938 in Howrah, West Bengal India. He was born in a very poor family and worked as an errand boy in tea stalls of Calcutta when his parents lived in a slum in Howrah. He funded his own education and became a graduate of Calcutta University. From his very childhood, he had established his natural talents on poetry.

Hungry Generation Movement

He was pioneer of the hungry generation Literary Movement in 60's and as editor of its bulletin. Debi Roy met Malay Roy Choudhury in an office of a literary periodical in 1960 and the two of them, after discussions with Shakti Chattopadhyay and Samir Roychoudhury launched the now famous Hungryalist movement in November 1961. His Howrah slum-room was the editorial office from where the Hungryalist Bulletins and Hungryalist Manifestoes were published. Along with ten other Hungryalists, Debi Roy was also arrested in 1964 on charges of obscenity in poetry though the trial court exonerated him.

Literary Works

He used to pen the literary page of "Sanibarer Chithi" under the pen name of "Sunanda Roy" Being highly educated he was professionally attached with R.L.O., Calcutta at the ministry of Comunication Deptt. Of Post , Govt. of India and now retired.

He has attended lots of prestigious Poetry Conferences nationally and Internationally.His poems have been published On the very famous bulletins tabloids, magazines nationally (Specially in New Delhi, Bombay, Pune, Calicut,Biher etc.) Internationaally (Specially In USA, Germany, Bangladesh , Australia, Sweden etc.) He was formerly Secretary of Indian writers Association and the member of the SAARC writers Seminer in Calcutta, Aro Sarbanash (2010), Bitarkita Manik Shibnarayan Ebong Anyanya etc.

Awards

He had achieved "Uttar Prabasi" Award (1985, Sweden), Late Shakti Chattopadhyay Memorial Award (1995). Participated in the Kavi Sammelan – 2002, Jointly organized by the Eastern zonal cultural Centre, Kolkata and Dept. of Cultural Affairs, Govt. of Sikkim, held in 27 july, 2002, at community Hall, Gangtok, Sikkim. He was Honoured by Indian P.E.N ,W.B. He was on honorable visits on Dhaka, Tangai, Mymensingh of Bangladesh on 1997, 1998, 2006 respectively.

Themes of Poetry

He developed a new kind of sentences in his poems which have now come to be known as logical breaks as well as image jumping. Subsequent Bengali poets have followed the method into the next century. As a result he is considered one of the first Postmodern Bengali poet.

Debi Roy's Works:

Poetry Collections

Kolkata O Ami(1964), Manush-Manush (1971), Samprotik Tinjan (1973), Arrojant from Birth(1978), Debi Royer Kavita (1980), Bhrukutir Birudh Eka (1983), Unmad Sahar (1984), Eisei-Tomar Desh (1986), Putul Nacher Gaan (1987), Poems of Debi Roy (1988,Translated in English by Manish Nandi), Sarbahara Tabu Ahanker (1990), Srikanta Vermar Kabita(1990 translated from Hindi into Bengali), Magadh Collection of Hindi poems by Srikant Verma-translated by Debi Roy from Sahitya Academy (1998), Bharat Barsha Tomay Khunjche(1993), Aguner Gaan (1994, published from Dhaka, Bangladesh), Astra Ekhono Boi(1995), Lips of Stone and other poems (1995, translated by Dr.Niranjan Mohanty), Nirbachito kabita (1988), Sawnirbachito Kavita (2000, UBP, Dhaka), Kavita Samagra 1&2 (2005, 2006 Renaissance Publication), Punardarshanaya Cha (2006, Renaissance Publication), Ghacheng Phoo(2008), Prasanga: Debi Roy (2004), A man from History (1998). "Amar Rabindranath Ebong Ananya" (A collection of criticism on Rabindranath; Ashabari Publication) and Ekushey February.
This page is based on the copyrighted Wikipedia Debi Roy; it is used under the Creative Commons Attribution-ShareAlike 3.0 Unported License. You may redistribute it, verbatim or modified, providing that you comply with the terms of the CC-BY-SA.