Deborah Paredez
Biography of Deborah Paredez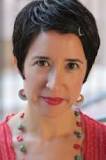 Deborah Paredez is the author of the poetry collection, This Side of Skin (2002) and the critical study, Selenidad: Selena, Latinos, and the Performance of Memory (2009). Her poems have appeared in Poetry, Callaloo, Crab Orchard Review, Mandorla, Palabra, Poet Lore and elsewhere. Her honors include an Alfredo Cisneros del Moral Foundation Award and residencies from the Vermont Studio Center and Hedgebrook. Paredez is the co-founder of CantoMundo, a national organization for Latina/o poets, and she is an associate professor of English at the University of Texas, Austin where she teaches in the New Writers School MFA program.
Wife's Disaster Manual
When the forsaken city starts to burn,
after the men and children have fled,
stand still, silent as prey, and slowly turn

back. Behold the curse. Stay and mourn
the collapsing doorways, the unbroken bread
in the forsaken city starting to burn.

Don't flinch. Don't join in.