Debra Miller
Debra Miller
(Allentown PA)
Biography of Debra Miller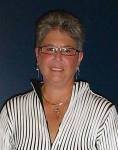 I'm a creative writer who has been mostly a hobbyist for about 20 years. I find my best work is during times of emotional turmoil or heightened states of enlightenment. It is at these times I free my spirit through penning what's at the core of my existence. Keep watching for more updates.
Silhouette
Tranquility;
traces the darkness
nestling breathless inhalations.
Burning desire;
scorched
beneath fingertips.
Anticipation;
blanketing
the velvet contours,
mapping the memory
of your existence.