Denis Kucharski
Denis Kucharski
(November 17,1976 / Medina, Ohio)
Biography of Denis Kucharski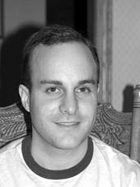 Having written thousands of poems, dozens of short stories and three novels, Denis Kucharski grew up and was educated in Northeastern Ohio. His primary influences include Herman Hesse, Robert McGovern, Albert Camus, Fyodor Dostoevsky and the philosophy of Nietszche.

My blog is located at http: //www.djklaw.blogspot.com

Denis Kucharski's Works:

Three novels, published on the Internet as:

'The Generation X'ers'

'Educating Luther'

'Confessions of a Hermit'
Hoodwinked
Hoodwinked, bamboozled and bewildered
I lay atop the smoky hillside.
Unaware of what lie ahead.
And in fiercer moments
I held my head in grief
And shouted in joy
And with resignation cried
Because the answers
Were with me all along
And I, in searching for them
Found nothing in between.