Dennis N. O'Brien
Dennis N. O'Brien
(1952 / Brisbane, Australia)
Biography of Dennis N. O'Brien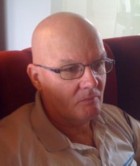 Dennis N. O'Brien is a formalist poet living in Queensland, Australia.
Infinetry
If the universe is of infinite size
On just one planet would life arise?
Or are there many where life can swarm,
Advanced like us and of similar form?
In lands bizarre and on planets strange,
Do alien writers their words arrange?
So do we live in a universe
Where infinite poets write infinite verse?