Derek Mahon
Biography of Derek Mahon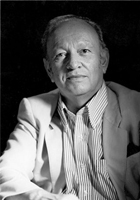 Derek Mahon (born 23 November 1941) is a Northern Irish poet. He was born in Belfast, Northern Ireland.
Mahon was born the only child of Ulster Protestant working class parents. His father and grandfather worked at Harland and Wolff while his mother worked at a local flax mill. During his childhood, he claims he was something of a solitary dreamer, comfortable with his own company yet aware of the world around him. Interested in literature from an early age, he attended Skegoneill Primary school and then the Royal Belfast Academical Institution.
At Inst he encountered fellow students who shared his interest in literature and poetry. The school produced a magazine to which Mahon produced some of his early poems. According to the critic Hugh Haughton his early poems were highly fluent and extraordinary for a person so young.
The Thunder Shower
A blink of lightning, then
a rumor, a grumble of white rain
growing in volume, rustling over the ground,
drenching the gravel in a wash of sound.
Drops tap like timpani or shine
like quavers on a line.

It rings on exposed tin,
a suite for water, wind and bin,