Destini Trujillo
Destini Trujillo
(February 28 1990 / San Bernardino California)
Biography of Destini Trujillo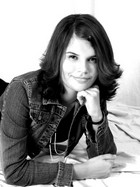 Hi.. my name is Destini i'm 17 years old and i totally love to write, read, i like punk rock music, i love my family even though half the time they dont understand me but i can live with that. i have a son he's 2 but he lives in Califonia with his adopted parents. i hope you like and understand my poems because they come from the bottom of my heart. Hey my name is Destini. im from California. im 17 years old. im half white and mexican but the truth is i cant speak spanish for shit. the other day when i was on the bus my friends said something about 'chew on my whebos' and i was like 'no i dont want to chew on your balls' they took that well laughed right in my face is more like it. anyways i should mention that i love kids. schools not my favorite thing english is what i love the most anyway...writing is my life. i want to be a writer and write my own books someday. and help kids who were like me lost, sad, and confused of what was the right thing or way to do/go in life. yea i wanna get married and have a few kids but not any time soon. i love my family they have helped me through a lot of stuff in my life, and i love my friends no i may not have many but i dont want to have enemies so i try to have a few just to chill with. and thats a little about me...Destini Antonette Trujillo! !

Destini Trujillo's Works:

none right now, that is!