Dick Davis
Biography of Dick Davis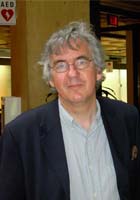 Dick Davis is a British poet, and translator. He is professor emeritus of Persian at Ohio State University. He has written scholarly works on both English and Persian literature, as well as eight volumes of his own poetry, and been the recipient of numerous academic and literary awards, including both the Ingram Merrill and Heinemann awards for poetry. His publications include volumes of poetry and verse translation chosen as books of the year by The Sunday Times (UK) in 1989; The Daily Telegraph (UK) in 1989; The Economist (UK) in 2002; The Washington Post in 2010, and The Times Literary Supplement (UK) in 2013. He has published numerous book-length verse translations from medieval Persian, most recently, Faces of Love: Hafez and the Poets of Shiraz (2012). He is a Fellow of the Royal Society of Literature, and has been called, by The Times Literary Supplement, "our finest translator from Persian".
Baucis And Philemon
Life lies to hand in hoe, spade, pruning-knife,
Plain wooden furniture and wattle walls,
In those unspoken words 'my husband', 'wife',
In one another's flesh which still recalls

Beneath the map of age their savoured youth.
It is an ambience in which they move
Having no need to grasp or grub for truth;
It is the still persistence of their love.