Divakarla Tirupati Sastry
Divakarla Tirupati Sastry
(26 March 1872 - 1919 / Yendagandi, Bhimavaram Taluk, West Godavari District, Andhra Pradesh / India)
Biography of Divakarla Tirupati Sastry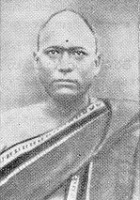 Divakarla Tirupati Sastry was a Telugu language poet and scholar. He was one of the two poets known as Tirupati Venkata Kavulu and other being Chellapilla Venkata Sastry.

Early Life

Divakarla Tirupati Sastry was born at Yendagandi village in Bhimavaram Taluk of West Godavari District in Andhra Pradesh, India. His father Venkata Avadhani was a great vedic scholar and a devotee of Sun God. He studied under Boorla Subbarayudu, Garimella Lingaiah, Pammi Peri Sastry and Charla Brahmaiah Sastry. During the study period under Charla Brahmaiah Sastry, Chellapilla Venkata Sastry joined them. He was sharp and talented and could silence his opponent in no time in argumentation.

Life

Venkata Sastry was unique in his own way, could compose verse in Telugu and make discourses on the puranic topics and hence would not brook Tirupati Sastry's supremacy. Once the teacher advised the students to celebrate Ganesh Navaratri, for which they needed money. They pooled their talents for collecting money for the celebrations. Slowly during these student days they understood each other and appreciated each other's talent.

Venkata Sastrywent to Benares and upon his return Tirupati Sastry joined him in composing poetry and performing Satavadharam at Kakinada. From then, till Tirupati Sastry's death parted them, they composed together for life. Even afterwards Venkata Sastry published all his work under their common authorship. All through his life Tirupati Sastry treated Venkata Sastry as his guru. They together performed many avadhanams, composed Dhaturatnakara, made a trip to Adayar, Madras where Annie Besant praised their talent, visited Venkatagiri Samstanam, composed Mulasthaneswara Stuti in Sanskrit and visited Gadwal, Atmakur, Vijayanagaram, Pithapuram samsthanams brought them name and fame. Tirupati Sastry got married in 1894. His marriage celebration gave them material for composing Sravananandam a work on Sringara rasa in 1898. It was dedicated to Vadrevu Venkata Ratnam of Pithapuram. The Zamindar of Polavaram came to know about them and requested them to translate Edwin Arnold's The Light of Asia into Telugu. He requested them to be his court poets. Venkata Sastry did not like to commit himself but persuaded Tirupati Sastry to accept the offer. This brought Tirupati Sastry to Kakinada in 1901.

The Zamindar of Polavaram had started a literary journal called 'Saraswati' in 1889. As a court poet it became the duty of Tirupati Sastry to look after the running of the journal. Translations of Bala Ramayanam, Mudrarakshasa and Mrichchakatika from Sanskrit were done for this journal. The Zamindar of Polavaram died in 1918 and caused a setback. However the Zamindar of Golanka Veeravaram, Rao Ramayamma came to his rescue by offering him an honorarium.

Death

He was suffering from diabetes and died in November 1920.
This page is based on the copyrighted Wikipedia Divakarla Tirupati Sastry; it is used under the Creative Commons Attribution-ShareAlike 3.0 Unported License. You may redistribute it, verbatim or modified, providing that you comply with the terms of the CC-BY-SA.