Don Marquis
Biography of Don Marquis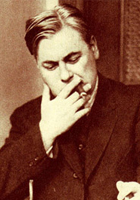 Donald Robert Perry Marquis (July 28, 1878, in Walnut, Illinois – June 16, 1937, in New York City) was a humorist, journalist, and author. He was variously a novelist, poet, newspaper columnist, and playwright. He is remembered best for creating the characters "Archy" and "Mehitabel", supposed authors of humorous verse.
The Tom-Cat
At midnight in the alley
A Tom-cat comes to wail,
And he chants the hate of a million years
As he swings his snaky tail.

Malevolent, bony, brindled
Tiger and devil and bard,
His eyes are coals from the middle of Hell
And his heart is black and hard.