Don Paterson
Biography of Don Paterson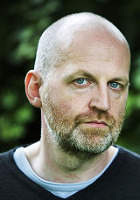 Don Paterson is a Scottish poet, writer and musician.

on Paterson was born in Dundee. He won an Eric Gregory Award in 1990 and his poem A Private Bottling won the Arvon Foundation International Poetry Competition in 1993. He was included on the list of 20 poets chosen for the Poetry Society's 'New Generation Poets' promotion in 1994. In 2002 he was awarded a Scottish Arts Council Creative Scotland Award.

His first collection of poetry, Nil Nil (1993), won the Forward Poetry Prize for Best First Collection. God's Gift to Women (1997) won the T. S. Eliot Prize and the Geoffrey Faber Memorial Prize. The Eyes, adaptations of the work of Spanish poet Antonio Machado (1875-1939), was published in 1999. He is also editor of 101 Sonnets: From Shakespeare to Heaney (1999) and of Last Words: New Poetry for the New Century (1999) with Jo Shapcott. His latest collection of poems, Landing Light (2003), won both the 2003 T. S. Eliot Prize and the 2003 Whitbread Poetry Award. He has also published three collections of aphorisms, The Book of Shadows (2004), The Blind Eye (2007) and Best Thought, Worst Thought (2008).

Don Paterson teaches in the school of English at the University of St. Andrews and is poetry editor for the London publishers Picador. An accomplished jazz guitarist, he works solo and for ten years ran the jazz-folk ensemble, Lammas, with Tim Garland. He lives in St. Andrews, Scotland.

Orpheus, his version of Rilke's Die Sonette an Orpheus, was published in 2006.

He was appointed Officer of the Order of the British Empire (OBE) in the 2008 Birthday Honours.

Don Paterson's Works:

Poetry collections

Nil Nil (1993) — winner of the Forward Poetry Prize for Best First Collection
God's Gift to Women (1997)
The Eyes (1999), after Machado
White Lie (2001)
Landing Light (2003)
Orpheus (2006), after Rilke
Rain (2009) Winner of Forward Poetry Prize

As editor

101 Sonnets (1999)
Last Words (1999) with (Jo Shapcott)
Robert Burns, poems selected by Don Paterson (2001)
New British Poetry (with Charles Simic) (2004)
Reading Shakespeare's Sonnets (Faber, 2010)

Drama

The Land Of Cakes (with Gordon McPherson) (2001)
A'body's Aberdee (2001)

Radio drama

Kailyard Blues (1999)
Ringing the Changes (1999) with (Jo Shapcott)
The Aberdee Brief (2000)
The Latecomers (2001)

Aphorisms

The Book of Shadows (2004)
The Blind Eye (2007)
Best Thought, Worst Thought (2008)
This page is based on the copyrighted Wikipedia Don Paterson; it is used under the Creative Commons Attribution-ShareAlike 3.0 Unported License. You may redistribute it, verbatim or modified, providing that you comply with the terms of the CC-BY-SA.
The Dead
Our business is with fruit and leaf and bloom;
though they speak with more than just the season's tongue—
the colours that they blaze from the dark loam
all have something of the jealous tang

of the dead about them. What do we know of their part
in this, those secret brothers of the harrow,
invigorators of the soil—oiling the dirt
so liberally with their essence, their black marrow?