Dorothea Mackeller
Biography of Dorothea Mackeller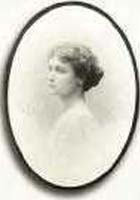 Dorothea McKellar was born in Sydney in 1858 into a well-established, wealthy family, and was educated privately at the University of Sydney. At 19 years old she wrote a poem, 'My Country', the second verse of which is perhaps the best known stanza in Australian poetry. Her family owned substantial properties in the Gunnedah district of New South Wales and it is in this town which claims her as their own, there a statue of her on horseback has been erected.

Dorothea died in 1968
This page is based on the copyrighted Wikipedia Dorothea Mackeller; it is used under the Creative Commons Attribution-ShareAlike 3.0 Unported License. You may redistribute it, verbatim or modified, providing that you comply with the terms of the CC-BY-SA.
Burning Off
They're burning off at the Rampadells,
The tawny flames uprise,
With greedy licking around the trees;
The fierce breath sears our eyes.

From cores already grown furnace-hot -
The logs are well alight!
We fling more wood where the flameless heart
Is throbbing red and white.