Dorothea Rosa Herliany
Biography of Dorothea Rosa Herliany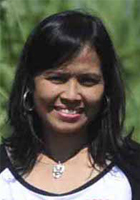 Dorothea Rosa Herliany (born in Magelang , Central Java , 20 October 1963 ; age 53 years) is a writer and poet Indonesia.
After finishing high school Stella Duce in Yogyakarta , he continued his education to the Department of Indonesian Literature, FPBS Sanata Dharma, Yogyakarta (now the University of Sanata Dharma ) and graduated from there in 1987 .
He founded the Forum Rite word and published a periodical culture Kolong Culture . Had also helped daily Sinar Harapan and magazines Prospects in Jakarta . Now he manages the publisher Tera in Magelang.
Dorothea Rosa Herliany Poems
The Lorena Letters
have you still kept that knife?
don't rinse off the blood. i still can hear that sweet groan.
you wrote in the pages of the book of love. late at nights, we'd read
the instant our raging blood boiled and gushed together
with hurried, impatient breath.

you take pleasure in being defenceless.
just like the fish that you've kept inside your womb -
flailing about within the pulverising strength of desire