Dorothy Featherstone Porter
Biography of Dorothy Featherstone Porter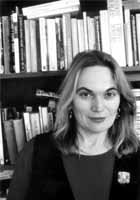 Dorothy Featherstone Porter (26 March 1954 – 10 December 2008) was an Australian poet.
Porter was born in Sydney. Her father was barrister Chester Porter and her mother, Jean, was a high school chemistry teacher. Porter attended the Queenwood School for Girls. She graduated from the University of Sydney in 1975 with a Bachelor of Arts majoring in English and History.
Porter had been suffering from breast cancer for four years before her death, but "many thought she was winning the battle," according to journalist Matt Buchanan. In the last three weeks of her life she became very sick and was admitted to hospital, where she was in intensive care for the final 10 days. She died aged 54 on 10 December 2008.
On 21 February 2010, actress Cate Blanchett read excerpts from Porter's posthumously published short work on literary criticism and emotions in literature, On Passion, at the Malthouse Theatre, Melbourne.
Pleasure
After the Cleopatra exhibition, British Museum



Is it the bite
of a sighing crocodile?

All your voluptuous
bleeding incense
come at once?

I have traveled its Silk Road
with my curtains drawn,
hearing
its lurching mirages
shiver among the stones
and nettles
of its gorgeous desert.