Douglas Goetsch
Biography of Douglas Goetsch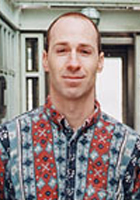 Douglas Goetsch's books of poetry include NOBODY'S HELL (Hanging Loose Press, 1999), THE JOB OF BEING EVERYBODY (Cleveland State University Poetry Center, 2004), winner of the CSU Poetry Center Open Competition, Nameless Boy (forthcoming) and four chapbooks. He is a recipient of fellowships from the National Endowment for the Arts and the New York Foundation for the Arts, a Pushcart Prize, the Donald Murray Prize, the Paumanok Prize, and numerous other honors. His work has appeared in Poetry , The New Yorker , The Iowa Review , The Gettysburg Review , Best American Poetry , online at Garrison Keillor's The Writer's Almanac , on the air at NPR.
Smell and Envy
You nature poets think you've got it, hostaged
somewhere in Vermont or Oregon,
so it blooms and withers only for you,
so all you have to do is name it: primrose
- and now you're writing poetry, and now
you ship it off to us, to smell and envy.

But we are made of newspaper and smoke
and we dunk your roses in vats of blue.