DuBose Heyward
Biography of DuBose Heyward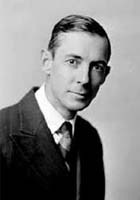 Edwin DuBose Heyward (August 31, 1885 – June 16, 1940) was an American author best known for his 1925 novel Porgy. This novel was adapted and produced in 1927 as a play by the same name (which he co-authored with his wife Dorothy) and, in turn, the opera Porgy and Bess (1935) with music by George Gershwin. It was also adapted as a film by the opera's name, released in 1959. Heyward also wrote poetry and other novels and plays, as well as the children's book The Country Bunny and the Little Gold Shoes (1939).
Modern philosopher
They fight your battles for you every day,
The zealous ones, who sorrow in your life.
Undaunted by a century of strife,
With urgent fingers still they point the way
To drawing rooms, in decorous array,
And moral Heavens where no casual wife
May share your lot; where dice and ready knife
Are barred; and feet are silent when you pray.