Dylan Shears
Dylan Shears
(Huntington, WV)
Biography of Dylan Shears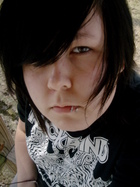 I was born in 1989 in Huntington, WV. I've been writing poetry and fiction since 12 years old. My favorite poets are Sylvia Plath and e.e. cummings. I do most of my writing late at night, because it's become such a ritual for me. I go through huge spells of writer's block for either poetry or fiction, but never both at once. I like sharing my work with others, but don't expect to ever really get published or anything.
Ghost
Touch me,
Prove that it's all an illusion.
I'm corporeal for you.

Transparency
Created by vulnerablity.