Dylan Thomas
Dylan Thomas
(27 October 1914 – 9 November 1953 / Swansea / Wales)
Biography of Dylan Thomas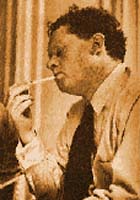 Dylan Marlais Thomas was a Welsh poet and writer who wrote exclusively in English. In addition to poetry, he wrote short stories and scripts for film and radio, which he often performed himself. His public readings, particularly in America, won him great acclaim; his sonorous voice with a subtle Welsh lilt became almost as famous as his works. His best-known works include the "play for voices" Under Milk Wood and the celebrated villanelle for his dying father, "Do not go gentle into that good night". Appreciative critics have also noted the craftsmanship and compression of poems such as "In my Craft or Sullen Art", and the rhapsodic lyricism in "And death shall have no dominion" and "Fern Hill".

Early Life

Dylan Thomas was born in the Uplands area of Swansea, Glamorgan, Wales, on 27 October 1914 just a few months after the Thomas family had bought the house. Uplands was, and still is, one of the more affluent areas of the city.

His father, David John ('DJ') Thomas (1876–1952), had attained a first-class honours degree in English at University College, Aberystwyth, and was dissatisfied with his position at the local grammar school as an English master who taught English literature. His mother, Florence Hannah Thomas (née Williams) (1882–1958), was a seamstress born in Swansea. Nancy, Thomas's sister, (Nancy Marles 1906–1953) was nine years older than he. Their father brought up both children to speak only English, even though he and his wife were both bilingual in English and Welsh. 'DJ' was even known to give Welsh lessons at home.

Dylan is pronounced 'd?lan in Welsh, and in the early part of his career some announcers introduced him using this pronunciation. However, Thomas himself favoured the anglicised pronunciation /'d?l?n/. A review of a biography by Andrew Lycett (2004) notes: "Florence, the boy's mother, had her doubts about the odd name: the correct Welsh pronunciation, which the family used, is "Dullan," and she worried that other children would tease him by calling him "dull one." Later, when broadcasting on the Welsh service of the BBC, Dylan Thomas had to instruct the announcers to say "'Dillan,' the way he himself pronounced it". His middle name, Marlais, was given to him in honour of his great-uncle, Unitarian minister William Thomas, whose bardic name was Gwilym Marles.

His childhood was spent largely in Swansea, with regular summer trips to visit his maternal aunts' Carmarthenshire farms. These rural sojourns and the contrast with the town life of Swansea provided inspiration for much of his work, notably many short stories, radio essays, and the poem Fern Hill. Thomas was known to be a sickly child who suffered from bronchitis and asthma. He shied away from school and preferred reading on his own. He was considered too frail to fight in World War II, instead serving the war effort by writing scripts for the government. Thomas's formal education began at Mrs. Hole's Dame school, a private school which was situated a few streets away on Mirador Crescent. He described his experience there in Quite Early One Morning:

Never was there such a dame school as ours, so firm and kind and smelling of galoshes, with the sweet and fumbled music of the piano lessons drifting down from upstairs to the lonely schoolroom, where only the sometimes tearful wicked sat over undone sums, or to repent a little crime — the pulling of a girl's hair during geography, the sly shin kick under the table during English literature.

In October 1925, Thomas attended the single-sex Swansea Grammar School, in the Mount Pleasant district of the city, where his father taught. He was an undistinguished student. Thomas's first poem was published in the school's magazine. He later became its editor. He began keeping poetry notebooks and amassed 200 poems in four such journals between 1930 and 1934. He left school at 16 to become a reporter for the local newspaper, the South Wales Daily Post, only to leave the job under pressure 18 months later in 1932. After leaving the job he filled his notebooks even faster. Of the 90 poems he published, half were written during these first years. He then joined an amateur dramatic group in Mumbles called Little Theatre (Now Known as Swansea Little Theatre), but still continued to work as a freelance journalist for a few more years.

Thomas spent his time visiting the cinema in the Uplands, walking along Swansea Bay, visiting a theatre where he used to perform, and frequenting Swansea's pubs. He especially patronised those in the Mumbles area such the Antelope Hotel and the Mermaid Hotel. A short walk from the local newspaper where he worked was the Kardomah Café in Castle Street, central Swansea. At the café he met with various artist contemporaries, such as his good friend the poet Vernon Watkins. These writers, musicians and artists became known as 'The Kardomah Gang'. In 1932, Thomas embarked on what would be one of his various visits to London.

In February 1941, Swansea was bombed by the German Luftwaffe in a "three nights' blitz". Castle Street was just one of the many streets in Swansea that suffered badly; the rows of shops, including the 'Kardomah Café', were destroyed. Thomas later wrote about this in his radio play Return Journey Home, in which he describes the café as being "razed to the snow". Return Journey Home was first broadcast on 15 June 1947, having been written soon after the bombing raids. Thomas walked through the bombed-out shell of the town centre with his friend Bert Trick. Upset at the sight, he concluded: "Our Swansea is dead". The Kardomah Café later reopened on Portland Street, not far from the original location

Career and Family

It is often commented that Thomas was indulged like a child and he was, in fact, still a teenager when he published many of the poems he would become famous for: "And death shall have no dominion" "Before I Knocked" and "The Force That Through the Green Fuse Drives the Flower". "And death shall have no dominion", appeared in the New English Weekly in May 1933 and further work appeared in The Listener in 1934 catching the attention of two of the most senior poets of the day T. S. Eliot and Stephen Spender. His highly acclaimed first poetry volume, 18 Poems, was published on 18 December 1934, and went on to win a contest run by The Sunday Referee, netting him new admirers from the London poetry world, including Edith Sitwell. The anthology was published by Fortune Press, which did not pay its writers and expected them to buy a certain number of copies themselves. A similar arrangement would later be used by a number of other new authors, including Philip Larkin.

His passionate musical lyricism caused a sensation in these years of desiccated Modernism; the critic Desmond Hawkins said it was "the sort of bomb that bursts no more than once in three years". In all, he wrote half of his poems while living at 5 Cwmdonkin Drive before he moved to London.It was also the time that Thomas's reputation for heavy drinking developed.

In the spring of 1936, Dylan Thomas met dancer Caitlin Macnamara in the Wheatsheaf pub, in the Fitzrovia area of London's West End. They were introduced by Augustus John, who was Macnamara's lover at the time (there were rumours that she continued her relationship with John after she married Thomas). A drunken Thomas proposed to Macnamara on the spot, and the two began a courtship. On 11 July 1937, Thomas married Macnamara in a register office in Penzance, Cornwall. In 1938, the couple rented a cottage in the village of Laugharne, Carmarthenshire, West Wales. Their first child, Llewelyn Edouard, was born on 30 January 1939 (d. 2000). Their daughter, Aeronwy Thomas-Ellis, was born on 3 March 1943 (d. 2009). A second son, Colm Garan Hart, was born on 24 July 1949.

Wartime and After

At the outset of the Second World War, Thomas was designated C3, which meant that although he could, in theory, be called up for service he would be in one of the last groups to be so. He was saddened to see his friends enter active service leaving him behind and drank whilst struggling to support his family. He lived on tiny fees from writing and reviewing and borrowed heavily from friends and acquaintances, writing begging letters to random literary figures in hope of support, envisaging this as a plan of long term regular income. He wrote to the director of the films division of the Ministry of Information asking for employment but after a rebuff eventually ended up working for Strand Films. Strand produced films for the Ministry of Information and Thomas scripted at least five in 1942 with titles such as This Is Colour (about dye), New Towns For Old, These Are The Men and Our Country (a sentimental tour of Britain). He actively sought to build a reputation as a raconteur and outrageous writer, heavy drinker and wit.

The publication of Deaths and Entrances in 1946 was a major turning point for Thomas. Poet and critic W. J. Turner commented in The Spectator "This book alone, in my opinion, ranks him as a major poet". Thomas was well known for being a versatile and dynamic speaker, best known for his poetry readings. He made over 200 broadcasts for the BBC.

Often considered his greatest single work, Under Milk Wood, a radio play featuring the characters of Llareggub, is set in a fictional Welsh fishing village ('Llareggub' is 'Bugger All' backwards, implying that there is absolutely nothing to do there). The BBC credited their producer Stella Hillier with ensuring the play actually materialised. Assigned "some of the more wayward characters who were then writing for the BBC", she dragged the notoriously unreliable Thomas out of the pub and back to her office to finish the work. The play took several years to write, the first half mostly in South Leigh, Oxford, in 1948, whilst the second half was mostly written in America in May 1953. Fewer than 300 lines were written in Laugharne, according to one account, which also explains the influence of New Quay on the play.

New York

John Malcolm Brinnin invited Thomas to New York and in 1950 embarked on a lucrative three month tour of arts centres and campuses in the States. He toured there again in 1952, this time with Caitlin, who discovered that he had been unfaithful on his 1950 trip. They both drank heavily, as if in competition, Thomas's health beginning to suffer with gout and lung problems. Thomas performed a 'work in progress' version of Under Milk Wood solo for the first time on 3 May at Harvard during his early 1953 US tour, and then with a cast at the Poetry Centre in New York on 14 May. He worked on the play further in Wales, where in its completed form it premiered the Lyric Theatre, Carmarthen, Wales on 8 October 1953, just 12 miles away from Laugharne. It was said Thomas gave a 'supreme virtuoso performance'. He then travelled to London and on the 19 October he flew to America. He died in New York on 5 November 1953 before the BBC could record the play. Richard Burton starred in the first broadcast in 1954 and was joined by Elizabeth Taylor in a subsequent film.

Thomas's last collection Collected Poems, 1934–1952, published when he was 38, won the Foyle poetry prize. He wrote "Do not go gentle into that good night", a villanelle, to his dying father, who passed away in 1952, one of the poet's last poems.

Death

Thomas arrived in New York on 20 October 1953, to take part in a performance of Under Milk Wood at the city's prestigious Poetry Centre. He was already ill and had a history of blackouts and heart problems, using an inhaler in New York to help his breathing. Thomas had liked to boast of his addiction to drinking, saying "An alcoholic is someone you don't like, who drinks as much as you do." He "liked the taste of whisky" and had a powerful reputation for his drinking. The writer Elizabeth Hardwick recalled how intoxicating a performer he was and how the tension would build before a performance: "Would he arrive only to break down on the stage? Would some dismaying scene take place at the faculty party? Would he be offensive, violent, obscene? These were alarming and yet exciting possibilities." His wife Caitlin said in her embittered memoir "Nobody ever needed encouragement less, and he was drowned in it." Thomas "exhibited the excesses and experienced the adulation which would later be associated with rock stars," however the amount he is supposed to have drunk in his lifetime and in New York before his death, may well have been exaggerated as Thomas became mythologised.

On the evening of 27 October 1953, Thomas's 39th birthday, the poet attended a party in his honour but felt so unwell that he returned to his hotel. On 28 October 1953, he took part in Poetry And The Film, a recorded symposium at Cinema 16, which included panellists Amos Vogel, Maya Deren, Parker Tyler, and Willard Maas. The director of the Poetry Centre, John Brinnin, was also Thomas's tour agent. Brinnin didn't travel to New York, remaining at home in Boston and handed responsibility to his assistant, Liz Reitell. Reitell met Thomas at Idlewild Airport (now JFK airport) and he told her that he had had a terrible week, had missed her terribly and wanted to go to bed with her. Despite Reitell's previous misgivings about their relationship they spent the rest of the day and night together at the Chelsea Hotel. The next day she invited him to her apartment but he declined, saying that he was not feeling well and retired to his bed for the rest of the afternoon. After spending the night at the hotel with Thomas, Reitell went back to her own apartment for a change of clothes. At breakfast Herb Hannum noticed how sick Thomas looked and suggested a visit to a Dr. Feltenstein before the performance of Under Milk Wood that evening. The doctor went to work with his needle, and Thomas made it through the two performances of Under Milk Wood, but collapsed straight afterwards. Reitell would later describe Feltenstein as a wild doctor who believed injections could cure anything.

A turning point came on 2 November. Air pollution in New York had risen significantly and exacerbated chest illnesses, such as Thomas had. By the end of the month, over two hundred New Yorkers had died from the smog. On 3 November Thomas spent most of that day in bed drinking He went out in the evening to keep two drink appointments. After returning to the hotel, he went out again for a drink at 2am. After drinking at the White Horse Tavern, a pub he'd found through Scottish poet Ruthven Todd, Thomas returned to the Hotel Chelsea, declaring, "I've had eighteen straight whiskies. I think that's the record!" The barman and the owner of the pub who served Thomas at the time later commented that Thomas couldn't have imbibed more than half that amount. Thomas had an appointment to visit a clam house in New Jersey on 4 November. When phoned at the Chelsea that morning, he said that he was feeling awful and asked to take a rain-check. Later, he did go drinking with Reitell at the White Horse and, feeling sick again, returned to the hotel. Dr. Feltenstein came to see him three times that day, on the third call prescribing morphine, which seriously affected Thomas's breathing. At midnight on 5 November, his breathing became more difficult and his face turned blue. Reitell unsuccessfully tried to get hold of Feltenstein.

Thomas was admitted to the emergency ward at nearby St Vincent's hospital. The medical notes state that he arrived in a coma at 1.58am, and that the "impression upon admission was acute alcoholic encephalopathy damage to the brain by alcohol, for which the patient was treated without response". The duty doctors found bronchitis in all parts of his bronchial tree, both left and right sides. An X-ray showed pneumonia, and a raised white cell count confirmed the presence of an infection. Caitlin in Laugharne was sent a telegram on 5 November, notifying her that Dylan was in hospital. She flew to America the following day and was taken, with a police escort, to the hospital. Her alleged first words were "Is the bloody man dead yet?" The pneumonia worsened and Thomas died, whilst in coma, at noon on 9 November.

Poetry

Thomas's verbal style played against strict verse forms, such as in the villanelle Do not go gentle into that good night. His images were carefully ordered in a patterned sequence, and his major theme was the unity of all life, the continuing process of life and death and new life that linked the generations. Thomas saw biology as a magical transformation producing unity out of diversity, and in his poetry he sought a poetic ritual to celebrate this unity. He saw men and women locked in cycles of growth, love, procreation, new growth, death, and new life again. Therefore, each image engenders its opposite. Thomas derived his closely woven, sometimes self-contradictory images from the Bible, Welsh folklore and preaching, and Freud. Thomas's poetry is notable for its musicality, most clear in poems such as Fern Hill, In Country Sleep, Ballad of the Long-legged Bait or In the White Giant's Thigh from Under Milkwood:

Who once were a bloom of wayside brides in the hawed house
and heard the lewd, wooed field flow to the coming frost,
the scurrying, furred small friars squeal in the dowse
of day, in the thistle aisles, till the white owl crossed

Thomas once confided that the poems which had most influenced him were Mother Goose rhymes which his parents taught him when he was a child:

I should say I wanted to write poetry in the beginning because I had fallen in love with words. The first poems I knew were nursery rhymes and before I could read them for myself I had come to love the words of them. The words alone. What the words stood for was of a very secondary importance. [...] I fell in love, that is the only expression I can think of, at once, and am still at the mercy of words, though sometimes now, knowing a little of their behavior very well, I think I can influence them slightly and have even learned to beat them now and then, which they appear to enjoy. I tumbled for words at once. And, when I began to read the nursery rhymes for myself, and, later, to read other verses and ballads, I knew that I had discovered the most important things, to me, that could be ever.

Dylan Thomas's Works:

Poetry collections

1934 18 Poems
1936 Twenty-Five Poems
1939 The Map of Love
1943 New Poems
1946 Deaths and Entrances
1950 Twenty-Six Poems
1952 In Country Sleep
1952 Collected Poems, 1934–1952

Collected prose

1940 Portrait of the Artist as a Young Dog, Dent
1946 Selected Writings of Dylan Thomas, New Directions
1953 Adventures In The Skin Trade And Other Stories (Adventures In The Skin Trade, an unfinished novel). New Directions
1954 Quite Early One Morning (Planned by Thomas, posthumously published). New Directions
1955 A Child's Christmas in Wales, New Directions
1955 A Prospect of the Sea and other stories and prose writings, Dent
1957 Letters to Vernon Watkins, Dent
1965 Rebecca's Daughters, Triton
1969 The year of love.

Drama

1954 Under Milk Wood (Radio play)
1953 The Doctor and the Devils and Other Scripts
1964 The Beach of Falesa (Screenplay)

Further reading: collections

1966 Dylan Thomas: a Collection of Critical Essays. Edited by Charles B. Cox
1971 The Poems of Dylan Thomas W. W. Norton & Co
1978 A Child's Christmas in Wales illustrated by Edward Ardizzone. 1996: published as Dolphin Paperback from Orion Children's Books
1982 Selected Works, Guild Publishing, London
1984 The Collected Stories of Dylan Thomas, New Directions Publishing
1986 Collected Letters. Edited by Paul Ferris. MacMillan
1992 On the Air With Dylan Thomas: The Broadcasts, Ed. Ralph Maud New Directions Publishing
1994 Eight Stories, W. W. Norton & Co
1995 Dylan Thomas: The Complete Screenplays, Ed. John Ackerman. Applause Books
1997 Fern Hill: An Illustrated edition of the Dylan Thomas poem. Red Deer College Press, Canada
2000 Collected Poems 1934-1953, London: Phoenix
2000 Selected Poems London: Phoenix

Critical studies

Brinnin, J M Dylan Thomas in America: an intimate journal, 1957
Gilbar & Stewart Literary Santa Barbara 1998, pp. 248–252
Lycett, Andrew. Dylan Thomas: A new life, 2003
Thomas, Caitlin Leftover Life to Kill, 1957
Thomas, David N. Fatal Neglect: Who Killed Dylan Thomas? David N. Thomas, Seren 2008
Thomas, David N. Dylan Remembered, Volume 2: 1935-1953, Seren 2004
Thomas, David N. Dylan Remembered, Volume 1: 1913- 1934, Seren 2003
Thomas, David N. The Dylan Thomas Murders, Seren 2002
Thomas, David N. Dylan Thomas: A Farm, Two Mansions and a Bungalow, Seren 2000
This page is based on the copyrighted Wikipedia Dylan Thomas; it is used under the Creative Commons Attribution-ShareAlike 3.0 Unported License. You may redistribute it, verbatim or modified, providing that you comply with the terms of the CC-BY-SA.
I See The Boys Of Summer
I

I see the boys of summer in their ruin
Lay the gold tithings barren,
Setting no store by harvest, freeze the soils;
Theire in their heat the winter floods
Of frozen loves they fetch their girls,
And drown the cargoed apples in their tides.