Eavan Boland
Eavan Boland
(1944 / Dublin)
Biography of Eavan Boland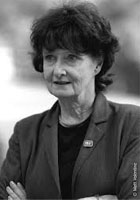 Eavan Boland was born in Dublin, Ireland, on September 24, 1944. Her father was a diplomat and her mother was an expressionist painter.

At the age of six, Boland and her family relocated to London, where she first encountered anti-Irish sentiment. She later returned to Dublin for school, and she received her B.A. from Trinity College in 1966. She was also educated in London and New York.

Her books of poetry include A Woman Without a Country (W. W. Norton, 2014), New Collected Poems (W. W. Norton, 2008), Domestic Violence (W. W. Norton, 2007), Against Love Poetry (W. W. Norton, 2001), The Lost Land (W. W. Norton, 1998), An Origin Like Water: Collected Poems 1967-1987 (W. W. Norton, 1996), In a Time of Violence (W. W. Norton, 1994), Outside History: Selected Poems 1980-1990 (W. W. Norton, 1990), The Journey and Other Poems (Carcanet Press, 1986), Night Feed (M. Boyars, 1982), and In Her Own Image (Arien House, 1980).

In addition to her books of poetry, Boland is also the author of A Journey with Two Maps: Becoming a Woman Poet (W. W. Norton, 2011), a collection of essays, which won the 2012 PEN Award; Object Lessons: The Life of the Woman and the Poet in Our Time (W. W. Norton, 1995), a volume of prose, After Every War (Princeton, 2004), an anthology of German women poets, and she co-edited The Making of a Poem: A Norton Anthology of Poetic Forms (with Mark Strand; W. W. Norton, 2000).

Her awards include a Lannan Foundation Award in Poetry, an American Ireland Fund Literary Award, a Jacob's Award for her involvement in The Arts Programme broadcast on RTÉ Radio, and an honorary degree from Trinity.

She has taught at Trinity College, University College, Bowdoin College, and she was a member of the International Writing Program at the University of Iowa. She is also a regular reviewer for the Irish Times.

Boland and her husband, author Kevin Casey, have two daughters, and she is currently a professor of English at Stanford University where she directs the creative writing program.
This page is based on the copyrighted Wikipedia Eavan Boland; it is used under the Creative Commons Attribution-ShareAlike 3.0 Unported License. You may redistribute it, verbatim or modified, providing that you comply with the terms of the CC-BY-SA.
Quarantine
In the worst hour of the worst season
of the worst year of a whole people
a man set out from the workhouse with his wife.
He was walking — they were both walking — north.

She was sick with famine fever and could not keep up.
He lifted her and put her on his back.
He walked like that west and west and north.
Until at nightfall under freezing stars they arrived.