Edouard Roditi
Biography of Edouard Roditi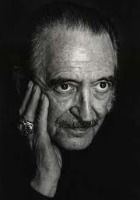 Edouard Roditi was an American poet, short-story writer and translator

Biography

Édouard Roditi was born in Paris, June 6, 1910; he was educated in England at Elstree, Charterhouse, and Balliol, and received a BA from the University of Chicago; he became acquainted with T.S. Eliot, James Joyce, André Breton and other leading literary figures, while living in London, Paris, and Berlin (1929-37); he published the first Surrealist manifesto in English, "The new reality," in the Oxford outlook (1929); while continuing his literary interests, he worked for the U.S. government during World War II for the Office of War Information and also served as an interpreter for the State Department during the San Francisco conference which established the United Nations.

In 1961, Roditi translated Yasar Kemal's epic novel Ince Memed (1955) under the English title Memed, My Hawk. This book was instrumental in introducing the famed Turkish writer to the English-speaking world. Memed, My Hawk is still in print.

In addition to his poetry and translations, Roditi is perhaps best remembered for the numerous interviews he conducted with modernist artists, including Marc Chagall, Joan Miró, Oskar Kokoschka, Philippe Derome and Hannah Höch. Several of these have been assembled in the collection Dialogues on Art

Roditi also held teaching positions at various colleges and universities; in addition to his literary achievements, Roditi was known as a generous and encouraging mentor to young writers; he died in Spain on May 10, 1992.

Edouard Roditi's Works:

Poems for F (1934)
Oscar Wilde: a critical study (1947)
Dialogues on art (1960)
De l'homosexualité (1962)
In a lost world (1978)
Thrice chosen (1981)
This page is based on the copyrighted Wikipedia Edouard Roditi; it is used under the Creative Commons Attribution-ShareAlike 3.0 Unported License. You may redistribute it, verbatim or modified, providing that you comply with the terms of the CC-BY-SA.
Edouard Roditi Poems
Aurora Borealis
A crystallization of color spreads from the upper regions of the dark sky towards the trembling nipples of the waves. The feathering fringes of clouds fade behind pillars of green light. Transparent curtains tremble every-where. In the arctic temple, the hidden Samson of light shakes the moon-green pillars of the night. Color these crystals with sudden blood; it is dawn, or else the last consumptive saliva of the dying day. Heartless hard light! In the crisp light of the frozen tinkling stars, no waters flow. The ice-stars are icebergs in this black ocean. When the green glass cathedrals crash, the light and the pillars of light and the green pillars of moon-green crystallized light are reflected through space and finally settle like sharp blades above the trembling nipples of the waves. Samson moves in the glass cathedrals. Samson and the bull and Samson and the sun and the sun is the bull and Samson is the sun and is the bull.
All poems of Edouard Roditi »
Share your comments »
Seance
The stranger walks into the dark room where the two men sit at the table and talk of travel. The stranger joins in the conversation, saying: 'I have also traveled' and the two men look up and seem surprised at his sudden appearance. In the corners of the ceiling there is a sound as of very swift wings, a muttering of motors,