Edward Dowden
Biography of Edward Dowden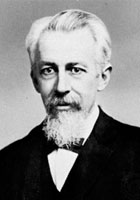 Edward Dowden was born in Cork, County Cork, Ireland.

Irish critic, biographer, and poet, noted for his critical work on Shakespeare.

Educated at Queen's College, Cork, and Trinity College, Dublin, Dowden became professor of English literature at Trinity in 1867 and lectured at Oxford (1890-93) and Cambridge (1893-96).

His Shakespeare: A Critical Study of His Mind and Art (1875) was the first book in English to attempt a unified and rounded picture of Shakespeare's development as an artist, studying him in terms of successive periods. His other works on Shakespeare include the primer Shakspere (1877), which was written for a nonacademic audience, and several edited collections of sonnets. He also provided the text to accompany the illustrations in Shakespeare Scenes and Characters (1876).

His wide interests and scholarly methods made his influence on criticism both sound and stimulating, and his own ideals are well described in his essay on The Interpretation of Literature in his Transcripts and Studies. As commissioner of education in Ireland (1896–1901), trustee of the National Library of Ireland, secretary of the Irish Liberal Union and vice-president of the Irish Unionist Alliance, he enforced his view that literature should not be divorced from practical life. His biographical/critical concepts, particularly in connection with Shakespeare, are played with by Stephen Dedalus in the library chapter of James Joyce's Ulysses. Leslie Fiedler was to play with them again in The Stranger in Shakespeare.

Dowden married twice, first (1866) Mary Clerke, and secondly (1895) Elizabeth Dickinson West, daughter of the dean of St Patrick's. His daughter, Hester Dowden, was a well-known spiritualist medium

Edward Dowden's Works:

Shakespeare : a critical study of his mind and art (1875)
Poems (1876)
Shakespeare Primer (1877)
Southey (1879)
The life of Percy Bysshe Shelley (1886)
Introduction to Shakespeare (1893)
A History of French Literature (1897)
The French revolution and English literature; lectures delivered in connection with the sesquicentennial celebration of Princeton university (1897)
New studies in literature (1902)
Robert Browning (1904)
Michel de Montaigne (1905)
Milton (1908)
Studies in literature, 1789-1877 (1909)
Essays modern and Elizabethan (1910)
Puritan and Anglican; studies in literature (1910)
Transcripts and studies (1910)
A woman's reliquary (1913)
Letters of Edward Dowden and his correspondents (1914)
Fragments from old letters, - E.D. to E.D.W., 1869-1892 (1914) in 2 vols. v.1 v.2
The Life Of Robert Browning (1915)
This page is based on the copyrighted Wikipedia Edward Dowden; it is used under the Creative Commons Attribution-ShareAlike 3.0 Unported License. You may redistribute it, verbatim or modified, providing that you comply with the terms of the CC-BY-SA.
The Initiation
UNDER the flaming wings of cherubim
I moved toward that high altar. O, the hour!
And the light waxed intenser, and the dim
Low edges of the hills and the grey sea
Were caught and captur'd by the present Power,
My sureties and my witnesses to be.

Then the light drew me in. Ah, perfect pain!
Ah, infinite moment of accomplishment!