Edward George Dyson
Biography of Edward George Dyson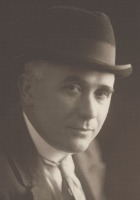 Edward George Dyson was an Australian poet, journalist and short story writer.

He was born at Morrisons near Ballarat in March 1865. His father, George Dyson, arrived in Australia in 1852 and after working on various diggings became a mining engineer, his mother came from a life of refinement in England. The family led a roving life during Dyson's childhood, moving successively to Alfredton, Bendigo, Ballarat and Alfredton again.

Unconsciously the boy was storing for future use the life of the miners, farmers and bushmen, among whom he lived. At 12 he began to work as an assistant to a travelling draper, after that was a whimboy in a mine, and for two or three years an assistant in a factory at Melbourne. This was followed by work in a newspaper office. At 19 he began writing verse, and a few years later embarked on a life of free-lance journalism which lasted until his death.

His first notable work was "The Golden Shanty", which appeared in the Bulletin, and many other short stories followed. In 1896 he published a volume of poems, Rhymes from the Mines, and in 1898 the first collection of his short stories, Below and On Top. In 1901 his first long story The Gold-stealers was published in London, which was followed by In the Roaring Fifties in 1906. In the same year appeared Fact'ry 'Ands, a series of more or less connected sketches dealing with factory life in Melbourne in a vein of humour. Various other stories and collections of stories were published in the Bookstall Series and will be found listed in Miller's Australian Literature. Another volume of verse Hello, Soldier! appeared in 1919.

All through the years Dyson did an enormous amount of work until he broke down under the strain and died after a long illness on 22 August 1931. He married Miss Jackson who survived him with one daughter.

Edward Dyson was the brother of Will Dyson and Ambrose Dyson.

Edward George Dyson's Works:

Novels

In the Roaring Fifties 1906
The Missing Link 1908
Tommy the Hawker and Snifter His Boy 1911
Loves of Lancelot 1914
The Escapades of Ann 1919

Short Story Collections

Below and On Top 1898
Fact'ry 'Ands 1906
Benno and Some of the Push: Being Further "Fact'ry 'Ands" Stories 1911
The Golden Shanty 1911
Spats' Fact'ry: More Fact'ry 'Ands 1914

Poetry Collections

Rhymes From the Mines 1896
"Hello, Soldier!" Khaki Verse 1919
This page is based on the copyrighted Wikipedia Edward George Dyson; it is used under the Creative Commons Attribution-ShareAlike 3.0 Unported License. You may redistribute it, verbatim or modified, providing that you comply with the terms of the CC-BY-SA.
The Old Whim Horse
He's an old grey horse, with his head bowed sadly,
And with dim old eyes and a queer roll aft,
With the off-fore sprung and the hind screwed badly,
And he bears all over the brands of graft;
And he lifts his head from the grass to wonder
Why by night and day the whim is still,
Why the silence is, and the stampers' thunder
Sounds forth no more from the shattered mill.