Eeva-Liisa Manner
Biography of Eeva-Liisa Manner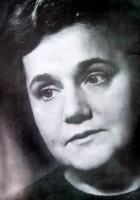 Eeva-Liisa Manner was a Finnish poet, playwright and translator. She was born in Helsinki but spent her youth in Vyborg (Viipuri). Manner started as a poet in 1944 (Mustaa ja punaista; "Black and Red"). From her breakthrough collection of poems, Tämä matka ("This Journey", 1956) she has been seen as one of the most influential modernists in postwar Finland.

Eeva-Liisa Manner wrote over fifteen original collections of poems, plays for theater and radio, novels and short prose. She translated widely contemporary and classic literature, including names like William Shakespeare, Lewis Carroll, Hermann Hesse, and Franz Kafka.

Her work has been translated to many European languages. Translation of Manners Selected Poems in English was published in 1997.
Eeva-Liisa Manner Poems
I will show you a way
that I have travelled.
Assimilation
I will show you a way
that I have travelled.

If you come
If you come back some day
searching for me

do you see how everything shifts
a little every moment