Elena Sandu
Biography of Elena Sandu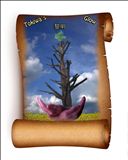 Am I a poet? Myself as such, how could I see?
Have I one clue of how to write poetry?
I am all but a simple earthly human, and my tiny words, are nothing more then little tries to have a whisper of my heart.
Love to use a fusion of many things in my creations. In my mind, beauty (you, my loving world) seems to attract words, words seems to be followed by motion, motion to imagery and imagery mix in the feelings. None could be done without connection to myself and from there to the surroundings, and further to the stars and moon, most fast connectors) .
Most of time love to let my pen dance fast and free, with no imposed rules the only thread to follow I wish to be my soul, my heart, and memories, all trying to be caught, frozen, kept a moment more, if I can catch one smallest part, one tiny dot of those almost unconscious instinctual thoughts coming from between the worlds I am happy and content, for, all that matters,
I have tried.
Miracle
A Child was born
What happiness!
Mother too tired
Still in pain
But what's that? ! Hey!
Child in good health! ?
That is the Miracle!
Nothing of shame..