Elena V. Moonray
Elena V. Moonray
(April 24,1880 (I wish) / Moscow)
Biography of Elena V. Moonray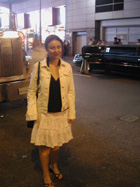 My life is some sort of a paradox - the longer I live, the less I know. And I kind of like it that way :)) . I mean, I enjoy learning – learning new things is the best.

I love my family and my many good friends. They are very warm, funny, and encouraging people, though sometimes they are trying to hide their best qualities. I can't even imagine myself for a second without them.

Basically, I am easily amused and happy with my life. And I have a serious and logical side, as well, but I will keep it away from this Site cause you might find it boring.
Wake Me Up
Wake me up
With your kisses
Wake me up
With your desire
Take me away
With your passion
How long
I've been asleep for?
The last thing I
Remember
Was a spindle;
And then it all went dark...

10/12/05